2019 Higher Education Technical Excellence Award Winner
Dublin City University School of Chemical Sciences Technical Team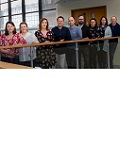 Dublin City University
Awarded for exceptional services to health and safety and accessibility in Irish Higher Education laboratories.
About the Winner
The School of Chemical Sciences Technical Team at Dublin City University comprises of dedicated group of people who are recognised for their consistent excellence in support of student learning in the University.
The team members are qualified in a range of chemistry disciplines including Analytical Chemistry, Organic Chemistry, Materials Science, Environmental Science, Instrumental Analysis and Health & Safety. The majority are qualified to Master's level, with each gaining specialist expertise in at least one high end instrumental technique. The team also has an accounts assistant to support purchasing & procurement.

In DCU, the group are acknowledged specifically for their team spirit & fantastic work principal which supports academic colleagues in delivering an exceptional learning environment. This remarkable support makes them an outstanding team in the university. Their dedication and enthusiasm for the continued delivery, over many years, of a hugely challenging technical portfolio is remarkable. In the last Quality Review of the school, the technical team was singled out & highly praised for their continued commitment to the school and enhancement of the school functions.
One of the fundamental characteristics of the team is that they continually work closely as a unit and take remarkable pride in delivery of their duties as a team effort. They are positive and inclusive, which makes for cohesive unit to the good of the school. They foster a sense of collegiality and inclusiveness among staff and students, creating a warm, welcoming and supportive environment where students of all abilities can thrive.

Related Links

School of Chemical Sciences Technical Team Webpage
Dublin City University
External links will open in a new browser window