Harrison-Meldola Memorial Prize 2011 Winner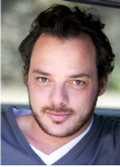 Dr. Philipp Kukura
University of Oxford
Award for his outstanding and original contributions to the development of ultrafast and single molecule spectroscopy.

About the Winner
Philipp Kukura obtained his MChem from the University of Oxford in 2002 and spent his final year as a part II student with Dr Christiane Timmel investigating the effects of static and oscillating magnetic fields on radical recombination reactions.
He then moved to the University of California at Berkeley to work on ultrafast spectroscopy under the supervision of Prof Richard Mathies. There he pioneered femtosecond stimulated Raman spectroscopy with a particular focus on elucidating the primary steps in vision, the cis-trans isomerisation of the retinal chromophore in rhodopsin.
The resulting PhD thesis was honoured by the Society of Applied Spectroscopy and the work on Rhodopsin selected as one of the Chemistry highlights of 2005 by the American Chemical Society.
In September 2006 Philipp moved to Switzerland as a postdoctoral fellow in Prof Vahid Sandoghdar's nano-optics group at the ETH in Zurich. There he switched fields and developed a novel imaging technique based on interferometric scattering detection for high-speed label-free imaging. This work eventually also led to the first detection and spectroscopy of single molecules in absorption at room temperature.
In 2009 Philipp was awarded an EPSRC Career Acceleration Fellowship and returned to the University of Oxford and St Hugh's College as a stipendiary lecturer in Physical Chemistry in 2010.
He is currently establishing his research group which focuses on the development and application of novel ultrafast and imaging techniques for the chemical and life sciences.
Related Links

University of Oxford - Biooptics
Dr Kukura Biooptics Page
External links will open in a new browser window