Inorganic Mechanisms Award 2017 Winner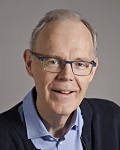 Professor Robert Morris
University of Toronto
Awarded for the mechanisms of hydrogen activation and catalytic hydrogenation and asymmetric hydrogenation reactions
About the Winner
Dr. Robert Morris was born in Ottawa, Canada and received his BSc and PhD degrees from the University of Waterloo and the University of British Columbia, respectively. After postdoctoral research at the AFRC Unit of Nitrogen Fixation at the University of Sussex and at the Pennsylvania State University, Dr. Morris began his career as a professor at the University of Toronto in Canada in 1980.
His discoveries of the first iron-group dihydrogen compounds and hydridic-protonic bonding led to an understanding of a common reaction found in industrial catalytic processes, the heterolytic splitting of dihydrogen. This is used to produce bulk and fine chemicals and pharmaceuticals. The continued study, syntheses and mechanistic investigation of a variety of ligand structures on iron group elements led Dr. Morris and his team to the discovery of the first well defined, active catalysts based on iron for the asymmetric transfer reduction of ketones and imines. With the help of the Green Centre of Canada, these enzyme-like iron catalysts have been commercialized. Dr Morris and his group have also created highly active ruthenium catalysts and have analysed the mechanisms of their action.
Dr. Morris holds 13 patents. His scholarly articles have appeared in Science and numerous chemical journals. He has won the major Canadian inorganic chemistry awards and was made a Fellow of the Chemical Institute of Canada in 1995 and of the Royal Society of Canada in 2005. Dr. Morris is currently a Killam Research Fellow awarded in 2015 by the Canadian Council for the Arts.
Related Links

Professor Morris' Webpage
University of Toronto
External links will open in a new browser window