John Jeyes Award 2014 Winner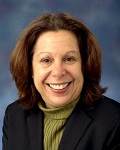 Professor Vicki H. Grassian
University of Iowa
For her pioneering contributions to the chemistry of environmental interfaces, heterogeneous atmospheric chemistry and the environmental implications of nanomaterials.

About the Winner
Vicki H. Grassian received her B.S. degree in Chemistry from the State University of New York at Albany in 1981. From there, she did her graduate studies at Rensselaer Polytechnic Institute (M.S. 1982), the University of California-Berkeley (Ph.D. 1987) before beginning her independent academic career at the University of Iowa. Professor Grassian is currently the F. Wendell Miller Professor of Chemistry and holds appointments in Engineering and Public Health. In 2006, she was appointed Founding Director of the Nanoscience and Nanotechnology Institute at the University of Iowa.
In 2013, she became the co-Director of the Center for Aerosol Impacts on Chemistry and the Environment. Professor Grassian has published over 240 peer-reviewed papers and 16 book chapters, and has edited three books. She has mentored over one hundred students and postdocs in her laboratory with many of them now having their own research programs focused on energy and the environment and developed the chemical sciences track of the undergraduate degree program in environmental science.
Because of her excellence in mentoring and scholarship, she has received several awards at Iowa including the Regents Award for Faculty Excellence and Outstanding Graduate Student Mentor Award. Additionally, she has been elected a fellow of several societies including the American Association for the Advancement of Science, Royal Society of Chemistry, American Vacuum Society and the American Chemical Society.
In 2012, she was awarded the ACS National Award for Creative Advances in Environmental Science and Technology. In 2013, she was appointed inaugural Editor-in-Chief of Environmental Science: Nano.
Related Links

Professor Grassian's Webpage
University of Iowa
External links will open in a new browser window