2018 John Jeyes Award Winner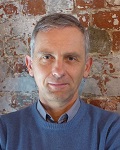 Professor Martyn Chipperfield
University of Leeds
Awarded for significant contributions to our understanding of atmospheric chemistry and processes governing its change.
About the Winner
Martyn studied at the University of Cambridge where he obtained a BA in Natural Sciences (Pt II Chemistry) in 1986 and a PhD (Atmospheric Chemistry) in 1990. He was a Post-Doctoral Research Fellow at the Rutherford Appleton Laboratory, Oxfordshire and the French Met Office in Toulouse, before returning to Cambridge in 1993 as a Research Fellow and Assistant Lecturer. He moved to the University of Leeds in 1999.
Martyn's research involves the development and application of detailed models of atmospheric chemistry and dynamics. He has made major contributions to the study of stratospheric ozone depletion, in particular the role of halogen chemistry. The current research interests of his group span issues such as atmospheric chemistry-climate interactions, greenhouse gas budgets and near-surface air pollution. Their work at Leeds forms part of the NERC National Centre for Earth Observation (NCEO) and National Centre for Atmospheric Science (NCAS).
Related Links

Professor Chipperfield's Webpage
University of Leeds
External links will open in a new browser window