Liversidge Award 2012 Winner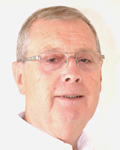 Professor Anthony Legon
University of Bristol
Awarded for his innovative studies of non-covalent interactions of closed shell molecules involving hydrogen, halogen or metal bonds.
About the Winner

Anthony Legon was born in Acton, Suffolk in 1941 but returned before the end of World War II to the east end of London, where was educated, first at the Lawrence School (Bethnal Green) and later at the Coopers' Company School (Mile End). He read for the BSc (Special) degree in Chemistry at UCL and conducted his doctoral research there with D. James Millen, with whom he subsequently had a long and happy collaboration. His association with UCL continued as Turner and Newall Fellow (1968-70), Lecturer (1970-83), Reader (1983-4) and Thomas Graham Professor (1989-90) in its Chemistry Department. He was also Professor of Physical Chemistry at the Universities of Exeter (1984-89 and 1990-2005) and Bristol (2005 -2008). In 1980, he spent a defining sabbatical year working in the laboratory of Willis Flygare at the University of Illinois (Champaign-Urbana).

He has been Tilden Lecturer of the RSC (1989-1990), EPSRC Senior Fellow (1997-2002), was elected a Fellow of the Royal Society in 2000 and is currently Senior Research Fellow at Bristol.

His research interests are centred on systematic investigations (mainly by rotational spectroscopy) of non-covalent interactions, namely the hydrogen bond in complexes B?H?X (B is a simple Lewis base; X is a halogen atom or CN or CCH), the halogen bond in complexes B?X?Z, (Z is a halogen atom or the electron withdrawing group CF3) and, most recently, the 'coinage metal bond' in systems B?M?X (M is a coinage metal atom). Thereby generalisations about these three types of interaction have been established and strong parallels between them identified.
Related Links

Professor Legon's Webpage
University of Bristol
External links will open in a new browser window