2019 Liversidge Award Winner
Professor Majed Chergui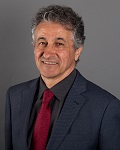 Ecole Polytechnique Fédérale de Lausanne
Awarded for pioneering picosecond and femtosecond X-ray spectroscopy of molecular species in solutions.
About the Winner
Majed Chergui FRSC, is professor of Chemistry and Physics at the Ecole Polytechnique Fédérale de Lausanne (EPFL) and Director of the Lausanne Centre for Ultrafast Science (LACUS). He received his BSc degree in Physics and Mathematics from Chelsea College (University of London) in 1977, his Ph.D. in Physics from the Université Paris-Sud (Orsay) in 1981 and his Habilitation from the Université Paris-Nord in 1986. He then spent six years at the Freie Universität Berlin till 1993, when he was appointed Full Professor of Physics at the Université de Lausanne, Switzerland. In 2003, he joined the Chemistry Institute of the EPFL.
Majed's research interests range from matrix-isolation spectroscopy of molecular systems to ultrafast spectroscopy of large molecules, biosystems and nanoparticles in solution, and bulk transition metal oxides. Most importantly, he is known for pioneering X-ray spectroscopy in the picosecond, then the femtosecond time domain, which he successfully applied to a wide range of scientific questions. He also made pioneering contributions to the development of ultrafast deep-ultraviolet methods, in particular 2-dimensional spectroscopy and circular dichroism. In recognition for his contributions, he received several awards and prizes among which, the Humboldt Research Award (2010), the Earle K. Plyler Award of the American Physical Society (2015), The Edward Stern Prize for Lifetime Achievements of the International X-ray Absorption Spectroscopy Society (2015). He is also Fellow of the RSC, APS, OSA, EPS, ACA (American Crystallographic Association) as well as Foreign correspondent of the Spanish Royal Academy of Sciences.
Related Links

Majed Chergui's Webpage
Ecole Polytechnique Fédérale de Lausanne
External links will open in a new browser window