Main Group Chemistry Award 2014 Winner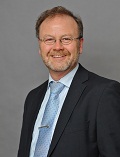 Professor Dr Holger Braunschweig
Julius-Maximilians-Universität Würzburg
For his seminal contributions to the chemistry of transition metal-boron single and multiple bonds, as well as boron-boron and boron-oxygen triple bonds.
About the Winner
Holger Braunschweig (born 1961 in Aachen) obtained his PhD (1991) and Habilitation (1998) from the RWTH Aachen with P. Paetzold and stayed for a Postdoc with M. F. Lappert, FRS at the University of Sussex, Brighton. After two years at Imperial College as Senior Lecturer and Reader he moved to a chair for inorganic chemistry at the Julius-Maximilians-University Würzburg in 2002.
In 2009 he was awarded the Gottfried Wilhelm Leibniz prize of the DFG, was elected as a member to the Bavarian Academy of Sciences and became member of the German National Academy of Sciences (Leopoldina) in 2011. In the same year, he received an ERC Advanced Grant in support of his work on borylene complexes. Moreover, he was awarded the Arduengo lectureship (2009, University of Alabama, Tuscaloosa) and the Steinhofer lectureship (2012, University of Freiburg).
His research interests lie in the area of boron chemistry, organometallic synthesis and catalysis and are currently focused on borametallocenophanes, boron heterocycles, boron-boron multiple bonds and transition metal complexes of boron. His scientific work is documented in ca. 350 publications, 170 of which appeared in first ranking journals.
Related Links

Professor Dr Braunschweig's Webpage
Institut für Anorganische Chemie, Julius-Maximilians-Universität Würzburg
External links will open in a new browser window