Materials for Industry - Derek Birchall Award 2009 winner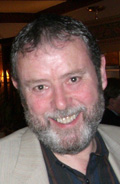 Patrick McGrail
University of Sheffield
Distinguished for his work on the development of thermoplastic toughened epoxy resins as matrix materials for high strength, light weight carbon fibre composites; materials which have revolutionised the aerospace industry over the past decade.
About the winner
Having studied Chemistry at the University of Sheffield, where he obtained his degree and PhD, he worked in the ICI Films business and in ICI central research groups, reaching the position of Company Research Associate. After retiring from ICI in Feb 2001 he joined Cytec Engineered Materials, a world leader in the supply of advanced materials into the aerospace industry, as Director of Strategic R & T.
After 6 years with Cytec he became Technical Director of the Composites Centre in the AMRC with Boeing at Sheffield University. He is now an independent consultant and a Visiting Professor at the University of York, Department of Chemistry and at the University of Sheffield, Department of Engineering Materials.
Professor McGrail has over 40 publications to his name and has filed 36 patents. These patents have ring-fenced areas of science and technology for ICI and Cytec and been very successful commercially.
The patents include ICI film products for packaging, reprographic and photographic applications, Cycom 977 and Cycom 970, high performance epoxy composites which are now industry standard materials for aircraft construction, Cytec Priform for the manufacture of tough, damage resistant composite structures for aerospace using RTM and the unique, functionalised engineering thermoplastic polymer used in Cycom 977 and Priform, as well as a process for its manufacture.