Nyholm Prize for Education 2011 Winner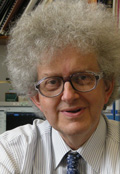 Martyn Poliakoff
University of Nottingham
Award for his enthusiastic leadership in taking chemistry to the widest possible audience, using not only traditional channels but also the power of YouTube, Professor Poliakoff is a true champion for chemistry.

About the Winner
Professor Martyn Poliakoff began his academic career as an undergraduate at King's College, Cambridge, obtaining his BA (1969) and PhD (1973) under the supervision of J J Turner FRS on the Matrix Isolation of Large Molecules. He was appointed as a Research Officer (1972) and Senior Research Officer (1973) in the Department of Inorganic Chemistry of the University of Newcastle upon Tyne. In 1979, he was appointed to a Lectureship in the Department of Chemistry at the University of Nottingham, Reader in Inorganic Chemistry (1985) Professor of Chemistry (1991) and Research Professor in Chemistry (1999).

In addition, he is an Honorary Professor of Chemistry at Moscow State University. He was elected FRS (2002), FRSC (2002) FIChemE (2004) and Honorary Member of the Chemical Society of Ethiopia (2008) and was awarded CBE in 2008 and the Royal Society Leverhulme Medal in 2010.

Martyn's current research involves chemical applications of supercritical fluids, with particular emphasis on Green Chemistry; (MP is current Chair of the Editorial Board of the RSC journal Green Chemistry).
He is Principal Investigator in the EPSRC/HEFCE project DICE, Driving Innovation in Chemistry & Engineering, promoting research collaboration between chemists and chemical engineers at Nottingham and beyond, and is currently a member of the Council of the IChemE. He is a passionate communicator of science and leads a team of Nottingham chemists collaborating with video-journalist Brady Haran to make chemistry videos for YouTube.

Related Links

University of Nottingham
Martyn Poliakoff's Homepage
External links will open in a new browser window