Rita and John Cornforth Award 2012 Winner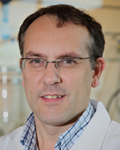 Professors Stefan Przyborski (Project Leader), Neil Cameron, Todd Marder, Andrew Whiting and Drs Paul Hunt and Arto Määttä
Durham University
For commercialising technology to enhance the growth of cultured cells, through a multidisciplinary collaborative partnership using novel organic and materials chemistry.
About the Winner
Project Leader Stefan Przyborski is currently the Professor in Cell Technology at Durham University and has over 20 years experience in cell biology with specific interests in cell culture technology, neuroscience and stem cell research.

He did his initial training at the University of Sheffield before being awarded an MRC Fellowship to research at The Jackson Laboratory, USA. Thereafter he received a Senior Medical Fellowship and also gained industrial experience at Wyeth Neuroscience, Princeton, USA.

In 2000, he was awarded a lectureship at Durham University and was promoted to Chair in 2009. He has formed alliances with industry, has published over 80 scientific papers and filed several patents. In recent years he has developed a multi-disciplinary approach through collaborative projects with physical scientists to develop novel ways of solving biological problems.

Working together for approximately 10 years, Professor Stefan Przyborski has built and led a team that is engaged in a truly interdisciplinary programme involving a series of successful research collaborations whilst providing unique cross-disciplinary training to researchers at the interface between biology and chemistry. Biologists (Przyborski, Hunt, Määtta) working in collaboration with chemists (Whiting, Cameron, Marder) strive to understand the growth, differentiation and function of living cells and use a broad range of experimental models to investigate specific biological questions. The nature of the cell-based model may often dictate the nature of the data generated which can be a limiting factor. To overcome these issues, Professor Przyborski has led research to improve cell growth in vitro and hence the value of data produced from such models.

He is also the founder, Director and Chief Scientific Officer of Reinnervate a biotechnology company set up in 2002 as a spinout from this research at Durham University UK. The Company is developing new and innovative products that are used to manage the growth and function of cultured cells. This maximises impact and builds on the output of research performed in the University.
Related Links

Reinnervate
The Real 3D Cell Culture Company
External links will open in a new browser window