2019 Rita and John Cornforth Award Winner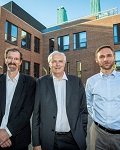 Image courtesy of Cambridge Independent

Cambridge Centre for Misfolding Diseases
University of Cambridge
Awarded for groundbreaking collaborative interdisciplinary research on the molecular origins and the treatment of neurodegenerative disorders.
About the Winners
Chris Dobson, Tuomas Knowles and Michele Vendruscolo are all Professors in the Chemistry Department at Cambridge. Dobson and Vendruscolo joined the Department in 2001, the former as John Humphrey Plummer Professor of Chemical and Structural Biology and the latter as a Royal Society University Research Fellow. In 2006 Michele Vendruscolo became University Lecturer and Professor in 2010. Knowles came to Cambridge in 2004 as a PhD student in the Cavendish Laboratory where he began working with Dobson and Vendruscolo. In 2010 he became University Lecturer and in 2015 he was promoted to Professor. Dobson, Knowles and Vendruscolo began their careers in different scientific disciplines (chemistry, experimental physics and theoretical physics, respectively) but they have worked closely together for nearly 15 years. Their common interests have increasingly been focused on developing a molecular understanding of protein misfolding and its links to disease.
In 2014, Dobson, Knowles and Vendruscolo decided to merge their research groups and create the Centre for Misfolding Diseases, of which they are co-Directors. The Centre now includes over 50 doctoral and master's students, and over 30 post-doctoral associates and independently funded research fellows. To enhance multidisciplinary interactions and to promote yet closer collaborations, they then launched an initiative to generate purpose built space for the Centre in a new Chemistry of Health Building adjacent to the main Department of Chemistry (opened in September 2018). The new building also hosts shared facilities accessible to all members of the Chemistry Department, and an 'incubator' laboratory, designed to promote the translation of basic research into commercial activity. This space is now occupied by Wren Therapeutics, founded in 2016 by Dobson, Knowles, Vendruscolo and two others with the mission to build on the procedures developed within the Centre to generate a platform for the discovery and optimisation of drugs to combat protein misfolding disorders, particularly Alzheimer's and Parkinson's diseases.

Related Links

Cambridge Centre for Misfolding Diseases'Webpage
University of Cambridge
External links will open in a new browser window