Robert Robinson Award 2015 Winner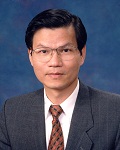 Professor Chi-Huey Wong
Academia Sinica
Awarded for his development of chemical and enzymatic synthesis methods to elucidate the roles of carbohydrates in biology and create new opportunities in medicine
About the Winner
Professor Wong is President of Academia Sinica, Taipei, Taiwan and Professor of Chemistry at The Scripps Research Institute. He received his B.S. and M.S. degrees form National Taiwan University, and Ph.D. in Chemistry from Massachusetts Institute of Technology in 1982. He taught at Texas A & M University for 6 years, then became Professor and Ernest W. Hahn Chair in Chemistry at the Scripps Research Institute (1989-2006) and Director of the Genomics Research Center at Academia Sinica, Taipei (2003-2006). He is a member of Academia Sinica, Taipei, the American Academy of Arts and Sciences, and the U.S. National Academy of Sciences.
Professor Wong is a recipient of numerous honors and awards, including, notably, the U.S. Presidential Young Investigator Award in Chemistry, the Roy Whistler Award of the International Carbohydrate Organization, the American Chemical Society Claude S. Hudson Award in Carbohydrate Chemistry, the U.S. Presidential Green Chemistry Challenge Award, The American Chemical Society Award for Creative Work in Synthetic Organic Chemistry, the Nikkei Asia Prize for Science, Technology and Innovation, the American Chemical Society Arthur C. Cope Award, and the Wolf Prize in Chemistry.
His research interests are in the field of chemical biology and carbohydrate chemistry, with particular focus on the development of new methods for the synthesis and study of complex carbohydrates and glycoproteins, elucidation of carbohydrate-mediated biological recognition associated with protein folding and disease progression, and development of carbohydrate-based medicines. He has published over 700 papers and 100 patents, and is a highly cited scientist with H-index = 101.
Related Links

Professor Wong's webpage
The Scripps Research Institute

Professor Wong's webpage
Academia Sinica
External links will open in a new browser window