Ronald Belcher Award 2008 Winner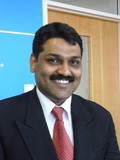 Sumeet Mahajan AMRSC
University of Southampton, UK
Awarded for his work on SERS-melting for characterisation of mutations in the human CFTR gene.
About the Winner
Sumeet Mahajan is currently a PhD student in the Electrochemistry group at the University of Southampton working with Prof. Phil Bartlett. He has been working on the fundamentals and applications of colloidal crystal templated electrodeposited substrates for surface-enhanced Raman spectroscopy (SERS). He has especially worked on developing novel analytical applications based on SERS for detecting DNA sequences and distinguishing mutations.
Prior to his PhD he has had an accomplished academic career having graduated from Indian Institute of Technology (IIT) Kanpur majoring in Chemistry. For his Masters degree in Biomedical Engineering from IIT Bombay he worked on conducting polymer sensors and actuators and got attracted towards electrochemistry. In between the two degrees he worked as a Scientist in Defence R&D Organization for 5 years developing analytical methods, improving and scaling up chemical processes.
He has won several awards for his academic achievements including a Proficiency Prize at IIT Kanpur for his dissertation, an ORSAS scholarship and the best poster award among 2nd year PhD students for 2007. He has co-authored 14 papers and is an inventor on 2 patent applications.
His research interests lie in the field of Bio(electro)analytical chemistry, photoelectrochemistry and functional nanomaterials.
Related Links

Sumeet Mahajan's homepage
Personal webpages
External links will open in a new browser window