Ronald Belcher Award 2015 Winner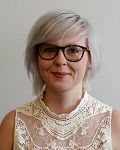 Dr Sophie Harvey
The University of Edinburgh
Awarded for her outstanding innovation in native mass spectrometry of conformationally dynamic proteins
About the Winner
Sophie Harvey graduated in 2010 from the University of Strathclyde with a MSci in Forensic and Analytical Chemistry. Following her undergraduate degree Sophie began her PhD research at the University of Edinburgh, under the supervision of Professor Perdita Barran and Professor Cait MacPhee.
The focus of her PhD thesis was the use of native mass spectrometry to study conformationally dynamic proteins. The research combined results from a number of mass spectrometry based techniques, including ion mobility-mass spectrometry and electron capture dissociation, to characterise dynamic proteins and their interactions with biomolecules or small drug-like compounds. In addition, complementary biophysical techniques such as circular dichroism spectroscopy, isothermal titration calorimetry and transmission electron microscopy were used. During the course of her PhD Sophie presented her research at a number of national and international conferences, and was a finalist in the 2013 "SET for Britain" poster competition.
Since the completion of her PhD Sophie was awarded an EPSRC Postdoctoral prize fellowship by the University of Manchester. The aim of the proposal is to develop an improved mass spectrometry based approach for the characterisation of protein complexes. This project is a collaboration between the Perdita Barran research group at the University of Manchester, the Vicki Wysocki research group at the Ohio State University, and the mass spectrometer manufacturer Waters.
In addition to her research Sophie enjoys reading, cooking and baking.
Related Links

Dr Harvey's webpage
The University of Edinburgh
External links will open in a new browser window