Schools Education Award 2016 Winner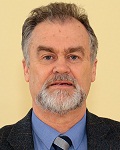 Mr Frank Scullion
Loreto College, Coleraine
Awarded for his sustained high quality teaching and the use of a variety of methods to inspire students to study chemistry and encourage them to learn beyond the classroom
About the Winner
Married, with 3 adult children, he qualified with a BSC in Chemistry from Queens University, Belfast in 1978. After trying his hand at teaching during the following year, at the CBS Grammar School in Belfast, he went on to complete his PGCE in 1980. Further qualifications in Education (DASE) and Education Management (BPil/MSc) were achieved during the following decade while he was teaching.
A teacher in Loreto College, Coleraine since September 1980, he has been the Head of Chemistry for 34 years, Teacher in Charge of Science for 20 years and Senior Teacher for 14 years. Loreto was awarded Specialist School Status (through Science) in 2008.
His special interest is in developing eLearning resources to help pupils learn "beyond the classroom". On his website (and similarly named YouTube Channel) he has built up an impressive range of eLearning resources to help GCE and GCSE pupils to learn and revise Chemistry and to assess their performance.
Starting back in 2007, with a 10-year plan, he set out to produce freely available online video lessons to cover the GCE Chemistry curriculum. With over 600 video lessons currently uploaded to his YouTube Channel (and embedded on his website) he appears well on target to achieve this remarkable goal. Often including animated sequences, his videos help to explain scientific concepts that pupils might struggle to visualise and understand. So-called iQuizzes that promote independent formative assessment and Microsoft Excel databases that perform physical chemistry calculations are just some of the other resources that he has created and shared online.
He has an enormous love of Chemistry and he feels deeply privileged to be able to leave something in the archives from his decades of teaching experience in one of the finest schools in the Province.

Related Links

Mr Scullion's Webpage
Loreto College, Coleraine
External links will open in a new browser window