Soft Matter and Biophysical Chemistry Award 2015 Winner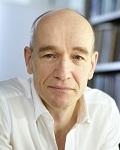 Professor Nico Sommerdijk
Eindhoven University of Technology
Department of Chemical Engineering and Chemistry
Laboratory of Materials and Interface Chemistry
Awarded for his seminal contributions towards a mechanistic molecular-scale understanding of macromolecular assembly and biomineral formation
About the Winner
Nico Sommerdijk is full professor in Bio-inspired and Multiscale Materials in the Laboratory of Materials and Interface Chemistry at Eindhoven University of Technology. He studied chemistry at the Univeristy of Nijmegen where he specialized in Organic Chemistry and obtained his degree in September 1988. In 1995 he obtained is PhD (Cum Laude) from the University of Nijmegen for his work on the synthesis and aggregation of chiral surfactant molecules under the supervision of Prof. Dr. R.J.M. Nolte and Prof. Dr. B. Zwanenburg descibed in his thesis "Tuning the molecular organisation of amphiphilic molecules". From 1995-1997 he was an ERC Human Capital and Mobility Fellow at the University of Kent (UK) where he worked on sol-gel based silicates, and subsequently received a research grant from ICI to work on bio-inspired crystallization with Prof B. Heywood at Keele University (UK).
He returned to Nijmegen to work on (macro)molecular self-assembly and bio-inspired mineralization, and in 1999 moved to Eindhoven where he was appointed assistant professor in 2000, associate professor in 2008 and full professor in 2014. Currently he is scientific director of the Soft Matter CryoTEM Unit, core member of the Institute for Complex Molecular Systems, member of the Eindhoven Polymer Laboratories and the Eindhoven Multiscale Institute.
His research focusses on bio-inspired hybrid materials through biomimetic mineralization and self- organization. He studies these processes combining (macro)molecular self-assembly and advanced electron microscopy with the aim to apply them in synthesis of advanced functional materials. Prof. Sommerdijk's work has been supported by several personal grants including a NWO VIDI Award (Netherland Science Foundation, 2006) and a NWO VICI Award (Netherland Science Foundation (2010).
Related Links

Professor Sommerdijk's Department webpage
Eindhoven University of Technology

Soft Matter CryoTEM Research Unit
Eindhoven University of Technology

ORCID: 0000-0002-8956-195X
Find out more about Professor Sommerdijk's research activities
External links will open in a new browser window