George and Christine Sosnovsky Award in Cancer Therapy 2010 Winner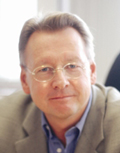 Paul Workman
The Institute of Cancer Research
For his seminal research on the role of chaperone proteins in cellular processes and the application of this knowledge at the forefront of anti-cancer drug discovery.
About the winner
Since 1997 Professor Paul Workman has been Director of the Cancer Research UK Centre for Cancer Therapeutics and Harrap Professor of Pharmacology and Therapeutics at The Institute of Cancer Research, Sutton, UK. He was previously Cancer Research Bioscience Section Head at AstraZeneca Pharmaceuticals (1993-1997); Cancer Research Campaign Professor and Director of Laboratory Research in the Department of Medical Oncology, Beatson Laboratories, Glasgow University (1990-1993); UICC Visiting Fellow at Stanford University, California (1989); and staff member of the MRC Clinical Oncology Unit, MRC Centre, Cambridge University (1976-1990). He obtained his BSc (Hons) in Biological Sciences at Leicester University (1973) and his PhD in Cancer Pharmacology at Leeds University (1977). Honours and awards include: European School of Oncology Award for Excellence in Oncology Research (1985), UICC ICRETT Fellow (1989); Cancer Research UK Life Fellowship (1991); Fellow of the Academy of Medical Sciences (2002), Bruce Cain Award Lecturer of the New Zealand Cancer Society (2003); Dutch New Drug Development Office Award for Cancer Drug Development (2006); NCRI/BACR Tom Connors Award Lecturer (2009); and DSc (Hon) Leicester University (2009).
Professor Workman was a scientific Founder of Chroma Therapeutics and of Piramed Pharma (acquired by Roche). He is Deputy Editor of Molecular Cancer Therapeutics and Review Editor for Cancer Cell. His research interests are in the design and application of chemical probes and the discovery and development of molecular cancer therapeutics aimed at 'drugging the cancer genome'.
Professor Workman's interdisciplinary research team has been responsible for, or associated with, several innovative new drugs entering the clinic and has identified fourteen development candidates over the last five years. These include the HSP90 molecular chaperone inhibitor NVP-AUY922 and the PI3 kinase inhibitor GDC-0941.
Professor Workman has given numerous invited keynote lectures and has published over 400 research articles and edited several books and journal issues on the molecular pharmacology of cancer drugs. His primary interests are in designing chemical probes and drugs, and in the development of personalized molecular medicines for cancer.
Related Links

The Institute of Cancer Research
Professor Paul Workman Webpage
External links will open in a new browser window