George and Christine Sosnovsky Award in Cancer Therapy 2012 Winner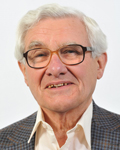 Professor Raymond Bonnett
Queen Mary, University of London
For discovering the tumour sensitising activity of the tetrahydroxyphenylporphyrin series of phototherapeutic candidates, especially for head and neck cancer.
About the Winner
Coming from the open acres of Suffolk, and after national service, Raymond Bonnett started his academic career at Imperial College in 1951, where RP Linstead's lectures on phthalocyanines caught his interest and set him on a tetrapyrrolic path.

PhD studies on the chemistry of vitamin B12 with Alexander Todd and Alan Johnson at Cambridge were followed by a Salters' Fellowship there. A Fulbright Award took him to Harvard to work with RB Woodward on the synthesis of chlorophyll a. After 2 years at UBC, Bonnett returned to Queen Mary College (now Queen Mary, University of London), where he eventually succeeded BCL Weedon in the Chair of Organic Chemistry in 1976. He was Head of the Chemistry Department 1982-1987.

At QMC his work on the chemistry and biochemistry of porphyrins and related compounds flourished: electrophilic substitution of porphyrins, chlorins and bacteriochlorins; haem catabolism and the 4 isomeric biliverdins from protohaem; porphyrin N-oxides; neovitamin B12; bilirubin photochemistry; crystal structure of bilirubin; nitrosylhaems; metalloporphyrins in lignite and coals; tetrabenzporphyrins.

All this and later work was carried out by an enthusiastic group of dedicated students and postdocs, and some of it was done in collaboration (eg X-ray analysis of bilirubin with JE Davies and MB Hursthouse; first synthesis of isoindole with RFC Brown).

So too was the work on the photodynamic therapy (PDT) of cancer, which started with Morris Berenbaum (St Mary's Hospital Medical School) in 1974, and continued till just before his death in 1991. Bonnett provided the chemical design and synthesis, and Berenbaum the pathological expertise and bioassay design. This resulted eventually in the discovery of 5,10,15,20-tetra (m-hydroxyphenyl)chlorin (m-THPC), now in the clinic (as FoscanŽ), for the PDT of certain forms of head and neck cancer, and generally regarded as one of the lead structures in cancer PDT.