George and Christine Sosnovsky Award in Cancer Therapy 2014 Winner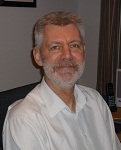 Professor Roger Griffin
Newcastle University
For his major contributions to the discovery of inhibitors of proteins involved in the cell cycle and DNA repair, particularly poly-ADP-ribose polymerase, DNA-dependent protein kinase and cyclin-dependent kinases.
About the Winner
Roger Griffin is Professor of Medicinal Chemistry and Co-director of the Cancer Research UK Drug Discovery Programme at the Newcastle Cancer Centre, School of Chemistry, Newcastle University. A graduate in Pharmacy from the University of Portsmouth in 1981, he completed a PhD in Medicinal Chemistry at Aston University, before taking up a lectureship in the Department of Pharmaceutical Sciences in 1985. He moved to Newcastle in 1990, and was appointed to his current post in 2001.
The main focus of Roger Griffin's research is anticancer drug design, with a particular emphasis on the medicinal chemistry of antitumour agents that modulate DNA damage repair and cell cycle progression. He was a key member of the team responsible for the development of small molecule poly(ADP-ribose)polymerase (PARP) inhibitors as potentiators of DNA-damaging cancer therapies, and as stand-alone therapeutic agents in BRCA-deficient tumours. This drug discovery programme resulted in the initiation of the first clinical trials with the PARP-1 inhibitor rucaparib in cancer patients in 2005, and was recognised through the award of the inaugural Cancer Research UK Translational Research Team Prize in 2010.
Roger Griffin has served on a wide range of scientific boards, including a number of Cancer Research UK committees, as well as the Chemicals, Pharmaceuticals and Standards Expert Advisory Group of the Medicines and Healthcare products Regulatory Agency (MHRA). He has supervised or co-supervised approximately 45 PhD students and 32 postdoctoral researchers. An inventor on 20 patents, he has published over 150 full research papers and other refereed articles.