Sustainable Water Award 2012 Winner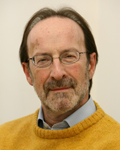 Professor David Stuckey
Imperial College London
For his contributions to the scientific aspects of waste water treatment, including the development of novel bioreactors and his world leading research on soluble microbial products.
About the Winner
Professor David Stuckey has established an International reputation in the area of biological wastewater treatment, particularly in the field of anaerobic digestion. This technology is becoming key in the area of renewable energy and resource recycling, such as "sustainable water", because it reduces the energy demand for waste treatment, solids generation, and Greenhouse Gas emissions, and enables wastewater to be recycled. While a graduate student he developed the standard bioassays in this field, the Biochemical Methane Potential (ATA) and Anaerobic Toxicity Assay (ATA) which are now used throughout the World. He went on to develop two novel reactor types; the Anaerobic Baffled Reactor (ABR), and the Submerged Anaerobic Membrane Bioreactor (SAMBR), the former with over 700 units throughout the World. He was also a pioneer in the area of Soluble Microbial Products (SMPs) which are critical in membrane fouling and producing high quality effluents.

He obtained his B.Eng (Chemical Engineering), and MEngSci in Biochemical Engineering from the University of Melbourne, Australia. After working in the State Government for a few years, he went to California to do his PhD at Stanford with Prof Perry McCarty, recipient of the Stockholm Water Prize. After Postdocs at NTH in Trondheim, and EAWAG in Zurich, he joined Chemical Engineering at Imperial College London where he established substantial activities in both Biochemical and Environmental Engineering, and is currently a Professor in Biochemical Engineering.

He has published over 130 technical papers, edited one book, and written a number of book chapters. He sits on the Editorial Board of 5 Journals. Recently (2008) he was awarded the prestigious Royal Society Brian Mercer Award for Innovation to pilot the SAMBR for treating sewage, while recovering energy and reducing solids production.
Related Links

Professor Stuckey's Webpage
Imperial College London
External links will open in a new browser window