As a charity, we are governed by our Board of Trustees who may appoint boards and committees and delegate such powers to them as it may think fit.
Our boards and committees are formed through elected representative members, who contribute to guiding and driving our strategies and activities.
Leadership Team
Our Leadership Team manages the implementation and operational delivery of the Royal Society of Chemistry's agreed strategy and programmes of activity by promoting leadership and direction and works closely with Council to ensure we are governed effectively.
Helen Pain CSci CChem FRSC, Interim Chief Executive
Helen will be Interim CEO, until a permanent successor to Robert Parker is appointed in 2021.
Helen joined the Royal Society of Chemistry after completing a degree and PhD in Chemistry. She is a Chartered Chemist and a Chartered Scientist. At the RSC, she has led many of its strategic functions becoming Deputy CEO in 2015. Helen is a champion for the profession and has commissioned bold campaigns such as Breaking the Barriers and our work to support Technicians.
In 2018, Helen was appointed as Chair of the Science Council, a UK organisation for the advancement of the science profession.
Robert Parker CSci CChem FRSC, RSC Ambassador to Europe and the Commonwealth.
Dr Robert Parker is to relinquish his role as CEO of the Royal Society of Chemistry at the end of 2020 and become the organisation's Ambassador to Europe and the Commonwealth.
Robert will continue to serve on the Science Museum Advisory Board and the Chemical Weapons Convention Advisory Board
Paul Lewis FRSA, FInstLM, Deputy Chief Executive
Paul joined the Royal Society of Chemistry in 2018. A qualified teacher with an MBA, he has substantial senior leadership experience in the educational assessment, adult training and, skills credentialing sectors with specialist Government-to-Government and, international operating expertise.

Paul is responsible for leading the organisation's publishing, commercial and technology activities, maintaining and developing our position as a leading, high-quality publisher and knowledge provider.
Stephen Joyce, Director of Finance
Stephen joined the RSC in 2016. As Finance Director he has lead responsibility for all financial matters, and works closely with our Trustees to ensure that our financial management continues to be sound.
Stephen has over 30 years' experience of working in public sector, commercial and charity organisations. Before joining us he held senior finance roles in local government, major national charities and a University.
Jo Reynolds FRSC, Director of Science and Communities
Jo joined the Royal Society of Chemistry in 2017, having previously been responsible for developing and evaluating Cancer Research UK's first five-year research strategy. She also led a programme of change across their UK network of centres and transformed their brand and engagement with the research community.
She has a PhD in biochemistry from the University of Cambridge.
Karen Roberts, Director of Human Resources and Organisational Development
Karen joined the Royal Society of Chemistry in 2009 as HR Manager and then, after two years as Head of HR, was appointed to the Leadership Team in 2015. She, along with her team, is responsible for attracting, developing and retaining great people at the Royal Society of Chemistry.
A Chartered Member of the CIPD, Karen has a first degree from Sheffield Hallam University and a Masters in Organisational Change from Northampton Business School. She has over 20 years' experience in human resources working in organisations that operate across a variety of different sectors in the UK and internationally.
Sarah Robertson MSc,
Director of Education and Professional Practice
Following a career in scientific and educational publishing, most recently with Oxford University Press, Sarah joined the Royal Society of Chemistry in 2015 in the new post of Director of Education.
She is committed to understanding the needs of teachers and learners, and to supporting the development of science education, from primary through to further and higher education. Sarah has an MSc from Imperial College London, and lives in Gloucestershire.
Stephen Rumbelow, Director of Sales and Marketing
Stephen joined the Royal Society of Chemistry in February 2019. He has extensive experience in sales, marketing, product development and the successful integration of innovative new technology. He has been recognised as a digital market leader and has a proven track record of delivering international growth and value in European, Asia-Pacific and Latin-American markets.
He is responsible for delivering the organisation's commercial activities, and will be leading our work to diversify our revenue streams.
Amanda Spencer PhD, Director of Technology
Amanda joined the RSC in January 2020. She was formerly CIO and Director of IT, Library and Technical Services, at the Royal College of Art, where she was responsible for a broad portfolio which included digital transformation. Prior to that, Amanda held a number of roles at the National Archives, including leading Digital and Digital Archiving programmes with Central Government, so brings a wide range of experience in strategy, operational delivery, stakeholder engagement and workforce development.
Emma Wilson MRSC, Director of Publishing
Emma has more than 15 years' experience working in the scholarly publishing sector. She has worked for both commercial and not-for-profit publishers in a variety of editorial and business development roles, joining the Royal Society of Chemistry in 2006 as a Journal Publisher.
Prior to her career in publishing, Emma was the recipient of an EMBO research fellowship after obtaining her PhD in biochemistry from Cambridge University.
All images © Royal Society of Chemistry, courtesy of MPP Image Creation and Stephen Lake
Board of Trustees
The Board of Trustees consists of up to 18 members. At least 10 are elected by the membership and up to eight are appointed by the Board itself, which include those who serve as the Chairs of the Boards. The normal term of office is four years.
The Board of Trustees meets four times a year and is chaired by our President who serves one year as President-Elect, two years as President. Our members can contact the Governance team if they wish to view Boards minutes.
The President, President-Elect and Honorary Treasurer are the Honorary Officers of the Royal Society of Chemistry.
Professor Tom Welton OBE CChem FRSC
President 2020-2022
Tom Welton is Dean of the Faculty of Natural Sciences at Imperial College London.
He works with ionic liquids in order to develop sustainable solvent technologies. The central academic aim of his research is to understand how different chemical environments influence reaction processes, and to use this understanding to provide more effective chemical processes by the matching of the reaction with its optimum solvent environment.
Tom is the author of over 100 papers, primarily on the structures and chemistry of ionic liquids and their solutes.
---
Professor Gill Reid FRSC
President-elect 2020-2022
Gill Reid is Professor of Inorganic Chemistry at the University of Southampton and was Head of School between 2016 and 2020.
Born and raised in Grangemouth, Scotland, Gill obtained both her BSc and PhD at the University of Edinburgh, before being appointed to a lectureship in Chemistry at Southampton in 1991.
Her research focuses on synthetic coordination and organometallic chemistry and their use in chemical vapour deposition and electrodeposition for the controlled growth of functional semiconducting thin film and nanostructured materials. These have important applications, such as solid-state memory, thermoelectric energy harvesting and battery materials. She also works on the development of metal-chelate binders for fluorine-18 towards positron emission tomography (PET) imaging and is the author of over 350 research papers.
She previously served as an RSC Trustee (2011-15) and chaired the Outreach Working Group until 2018.
Dr Paul W Satchell CChem FRSC
Honorary Treasurer, retires 2021
Following a Ph.D. in Gas Kinetics with Howard Purnell, Paul joined BP at Sunbury in 1980. He continued to work in the chemical industry until 1996, latterly as a consultant with Coopers & Lybrand. Since then, Paul has been an equity analyst, specialising in pan-European chemicals, with advisory work in M&A and lending being recurrent themes throughout. Paul is frequently invited to present at global industry events, such as the World Aromatics Conference. He sits on the Editorial Advisory Board of ICIS Chemical Business and has served on the Investment Committee of the RSC for six years, latterly as Chair.
Ms Julia Hatto BEM CSci CChem FRSC
Elected Trustee, retires 2021
Julia Hatto was born in Somerset and graduated from the University of Exeter. Following a long career in the pharmaceutical industry, she is now a consultant.
In addition to her research contribution, Julia has also been a passionate advocate for mentoring and training. She has inspired and supported the next generation of young scientists by establishing industry education partnerships for students from 8-18. She has nurtured the career development of apprentices and graduates to enable them to fulfil their potential. This resulted in a positive business impact on creativity and diversity in the talent pipeline.
Julia was awarded the British Empire Medal in 2016 for service to the chemical sciences.
Dr Elizabeth Rowsell FRSC
Elected Trustee, retires 2021
Liz Rowsell is the Director of the Johnson Matthey Technology Centres, which form the corporate R&D facilities for the company. Liz has 24 years of experience working in the Chemicals Industry across a range of sectors such as pharmaceuticals, mining, process chemistry and consumer goods.
In her role as Director Liz works closely with her businesses, customers and academia to identify new opportunities and ensure the company has leading technology to meet them.
Liz has been working with the RSC for over 20 years, most recently as one of the judging panel for the RSC Emerging Technologies Competition. She is a member of the Government's Advanced Materials Leadership council, working with academia, industry, skills providers and centres of excellence to provide strategic advice and leadership to enable the accelerated development of advanced material applications.
Professor Tom Simpson CChem FRSC FRS FRSE
Elected Trustee, retires 2021
Tom Simpson graduated BSc from Edinburgh, and Ph.D. Bristol. After postdoctoral work in Liverpool and the ANU he was appointed to a Lectureship in Edinburgh in 1978. He moved to Professorships in Leicester in 1988, and Bristol in 1990. His research covers the chemistry and biosynthesis of microbial natural products. He was elected FRS in 2001 and Fellow of the Royal Society of Edinburgh in 2006. He has received several RSC Awards, notably the Corday-Morgan Medal, Tilden, Simonsen and Hugo Müller Lectureships and the Natural Product and Rita and John Cornforth Awards.
Dr Louise Armstrong-Denby CChem FRSC
Elected Trustee, retires 2023
Louise Armstrong-Denby has two decades of imaging and analysis experience and has successfully commercialized cellular and tissue imaging systems, software and services, building commercial teams and strategic partnerships across Europe, the Americas and Asia-Pacific. Louise is Chief Commercial Officer of Visiopharm, and leads the global commercial organisation in cancer research and diagnostics. She has previously held a number of senior global sales and product management positions in PerkinElmer and Andor Technology.
Louise is a Fellow of the Royal Society of Chemistry (FRSC), a Chartered Chemist (CChem) and has a PhD in Analytical Chemistry. She served as Chair of the Chemist's Community Fund Grants Committee for four years and was an RSC Volunteer Visitor for Kent for more than ten years.
Dr Claire Gallery-Strong CSci CChem FRSC
Elected Trustee, retires 2023
Claire Gallery-Strong has developed her chemistry career working across a variety of sectors including pharm, environmental and nuclear. Today, she is responsible for an enterprise role at Sellafield, the most complex nuclear decommissioning site in the world. Graduating from NUI Galway, Ireland, she moved to the UK to develop in the field of environmental chemistry. Following an interest in analytical chemistry, she studied an MSc at Kings College London in Forensic Science specialising in chromatography. She moved into pharma and from there into the nuclear sector. Over a variety of roles directing engineering project and programmes, she has brought a scientific understanding to solve problems and deliver change.
Claire is an active chemist, mentoring for MRSC and CChem candidates. She is Senior Co-ordinator for the Sellafield RSC scheme which has over 60 candidates progressing for registrations. She recently graduated from Henley Business College with an MBA and has used this to establish portfolio management thinking in her business.
Professor Annie Powell CChem FRSC
Elected Trustee, retires 2023
Annie Powell is a Professor at Karlsruhe Institute of Technology (KIT) in Karlsruhe, Germany. A major research focus is on "Coordination Clusters" and their relevance to chemistry, physics and biology. She obtained her PhD from the University of Manchester in 1985, spent 2.5 years as a postdoc in the group of Prof Heinrich Vahrenkamp at the University of Freiburg where she learned how to handle organometallic compounds, X-ray crystallography and the German academic system. After moving through the ranks to Professor at UEA in 1998, she opted for the adventure of becoming a pioneering female and foreign professor within the German system. Subsequently she has been active in many International and local projects, acted as advisor and panel member on assessment boards and committees and supervised and mentored students from all over the world.
---
Dr Annette Doherty OBE FRSC
Appointed Trustee, retires 2024
Currently Senior Vice President, Global Head of Product Development and Clinical Supply, GlaxoSmithKline (GSK).
Annette has 33 years of international experience working within the pharmaceutical sector, including at Warner Lambert/Parke Davis (1987-2000), Pfizer (2000-2012) and most recently GSK (2012-present). She has held a variety of scientific leadership positions across Discovery Research and Chemistry, Manufacturing and Controls (CMC) Development and has contributed to the development of numerous new medicines.
She has BSc in Chemistry (1982) and PhD in Organic Synthesis (1985) from Imperial College of Science and Technology, London and did postdoctoral research at Ohio State University (1985-1987). In 2007 she received an honorary degree of Doctorate of Science from the University of Greenwich for her scientific leadership in research and contributions to education and industry/academic partnerships. Annette chaired the Association of British Pharmaceutical Industry (ABPI) R&D group from 2005-2009, served on the ABPI Board, and was a Board member of the Medical Research Council (2008-2012) and Trustee of the Royal Society of Chemistry council (2012-2106). She has served on the Board of charities such as MRCT (now LifeArc, 2012-2019) and on the Medicines Manufacturing Industry Partnership (2017-2019). She has been a Non-Executive Director of Cambridge University Hospitals NHS Foundation Trust since 2017. She has authored more than 100 peer reviewed scientific publications and reviews and is a co-inventor on more than 25 patents.
In 2009, Annette was awarded the OBE in recognition of her services to the pharmaceutical sector.
Professor Saiful Islam CChem FRSC
Appointed Trustee, retires 2024
Saiful Islam is Professor of Materials Chemistry at the University of Bath. He grew up in Crouch End London and obtained his degree and PhD from University College London, followed by a Postdoctoral Fellowship at the Eastman Kodak Labs in New York, and a lecturer position at the University of Surrey before joining Bath in 2006.
His research encompasses major contributions to the deeper understanding of atomistic processes in materials for lithium batteries and perovskite solar cells with over 225 publications. He is the PI of the Faraday Institution CATMAT project on lithium battery cathodes. He has received several awards including the 2020 ACS Award in Energy Chemistry, the 2017 RSC Peter Day Award for Materials Chemistry and the 2013 Royal Society Wolfson Research Merit Award, and is one of the RSC 175 Faces of Chemistry. He currently serves on the RSC journal Advisory Boards of Energy & Environmental Science and Journal of Materials Chemistry A, and previously served on the RSC Materials Chemistry Division Council.
Saiful presented the Royal Institution Christmas Lectures in 2016 for BBC TV on the theme of energy. He serves on the Royal Society Public Engagement Committee and is a Patron of Humanists UK.
---
Professor Duncan Graham CChem FRSC FRSE
Appointed Member, Chair of Publishing Board, retires 2024
Duncan Graham is the Research Professor of Chemistry and Head of Department for Pure and Applied Chemistry at the University of Strathclyde in Glasgow. He obtained his BSc Honours (1992) and PhD in Chemistry (1995) from the University of Edinburgh before joining the University of Strathclyde in 1996 as a postdoctoral researcher. In 1997 he secured a 5-year BBSRC Fellowship to start his independent research career. He was appointed as a lecturer in 2002 and promoted to professor in 2004 then elected to the fellowship of the Royal Society of Edinburgh in 2007. He was awarded the RSC's Corday Morgan prize in 2009, a Royal Society Wolfson Merit Award in 2010 and the RSC's Theophilus Redwood award in 2016. He served as Editor in Chief of the RSC journal Analyst for 7 years and serves on several editorial advisory boards including Chemical Society Reviews and Chemical Science. He was president of the analytical division of the Royal Society of Chemistry (2017-2020), and chair of the analytical chemistry trust fund (2017-2020). His scientific interests are in using synthetic chemistry to produce sensors that respond to a specific biological species or events as measured by Raman spectroscopy or SERS and collaborating with scientists from different disciplines to exploit these approaches.
Jonathan Oxley CChem FRSC CMgr FCMI
Appointed Member, Chair of Member Communities Board, retires 2022
Jonathan Oxley graduated from Heriot Watt University with a degree in Chemistry, joining BP for a career of 24 years, latterly across the sustainable energy sector, including a secondment to the Energy Technologies Institute where he co-led a bioenergy project to underpin 2008 UK Climate Act. Jonathan was most recently at the World Energy Council, where he led their member, government and institutional engagement.

A Chartered Fellow of both the Royal Society of Chemistry and the Chartered Management Institute, Jonathan has a passion for sustainability in business and for engaging communities in a common endeavour. He is a Tallow Chandler gold medal winner, and was previously a member of the NERC Innovation Advisory Board.
Dr Andy Rudge CSci CChem FRSC
Appointed Member, Chair of Professional Standards Board, retires 2023
Andy Rudge is the Chief Chemist at EDF Energy, responsible for governance and oversight of chemistry across the UK's fleet of operating civil nuclear power plants. After work on electrochemical capacitors for electric vehicles at Los Alamos National Laboratory, Andy joined the UK electricity industry to specialise in power plant chemistry and corrosion, before moving into chemistry leadership roles for the Hinkley Point C project and the operating fleet. Andy is the Chemistry Discipline Chair for EDF Energy, overseeing EDF Energy's accredited scheme with RSC for the development of chemistry professionals to MRSC and CChem. Andy has been a member of the RSC Membership and Qualifications Board and the Environment, Sustainability and Energy Division Council, before joining the Professional Standards Board where he is now Chair.
Professor Marina Resmini FRSC
Appointed Member, Chair of Inclusion and Diversity Committee, retires 2022
Marina Resmini was born in Milan, Italy, where she grew up and studied Chemistry at the University of Milan. Following her PhD (1994) she moved first to the University of Amsterdam and then to London, following the award of a prestigious Marie Curie Fellowship. She developed her academic career at Queen Mary University of London, where she is now Professor of Materials Chemistry and current Head of the Chemistry Department, part of the School of Biological and Chemical Sciences. Her research interests are focused in the area of functional nano materials with applications at the interface between physical and bio/medical sciences, particularly as enzyme-mimics, sensors and drug delivery systems.
She has a strong interest in inclusion and diversity, in particular supporting young female researchers at the very early stages of their careers; she is now Chair of the RSC Inclusion and Diversity Committee.
Vacancies & elections
Vacancies and Elections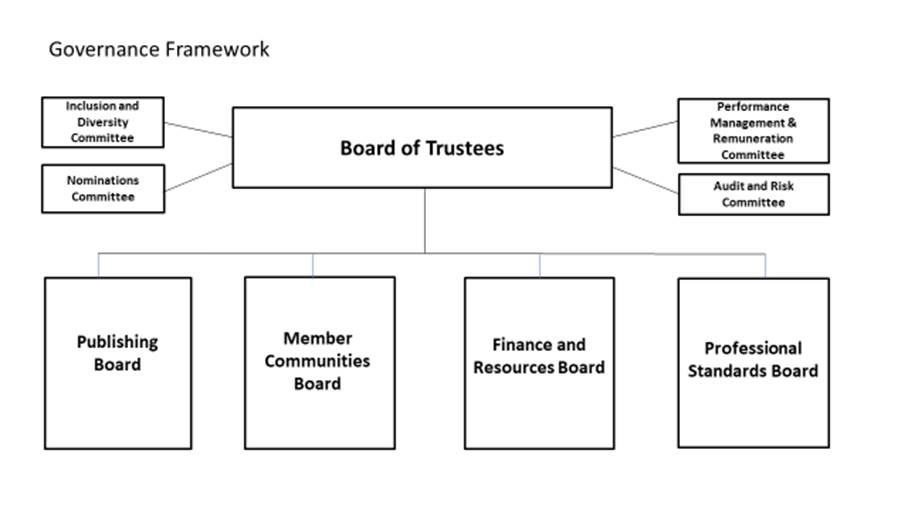 We are currently accepting nominations for the Board of Trustees, Member Communities Board, Professional Standards Board, Inclusion and Diversity Committee and Divisions. Those elected will serve from the Annual General Meeting (AGM) in July 2021.
Our Trustees would like the members serving on our governance bodies to represent the breadth and diversity of the chemical sciences, with reference to industrial and academic backgrounds, geographical spread, gender, ethnicity and age range
Trustees
There are vacancies for four elected Trustees of the Board of Trustees to take office from the AGM in July 2021, for a four-year term, until the AGM in July 2025.
Board vacancies
There are vacancies for three elected members of the Member Communities Board. One of whom must be active within the Local Section networks, one active within the Interest Groups and one active within Early Careers (experience of serving on a network committee within the past five years) to take office from the AGM in July 2021, for a three-year term, until the AGM in July 2024.
There is a vacancy for an elected member of the Professional Standards Board to take office from the AGM in July 2021, for a three-year term, until the AGM in July 2024.
Committee vacancies
There is a vacancy for an elected member of the Inclusion and Diversity Committee to take office from the AGM in July 2021, for a three-year term, until the AGM in July 2024.
Division vacancies
Division Councils have an important role to provide leadership to the Division, and to the development and implementation of the Division's activities. The Division Presidents and Division Council members come from a range of backgrounds and career stages.
There are vacancies for President of the Dalton Division and the Organic Division to serve as President Elect for one-year from the AGM in July 2021 and take office as President for a three-year term until the AGM in July 2025, followed by one-year as Immediate Past President until the AGM in July 2026.
There are vacancies for two elected members of Analytical, Chemistry Biology Interface, Dalton, Education, Environment Sustainability & Energy, Faraday, Industry & Technology, Materials Chemistry and Organic Division Councils to take office from the AGM in July 2021, for a three-year term, until the AGM in July 2024.
Please see the role descriptors to find out more about the roles.
Nominations
Any member of the RSC is invited to make nominations for Boards and Committee vacancies and any member of their respective Division are invited to make nominations for their vacancies. Nominees will be asked to declare that they are willing to make the necessary commitments if elected.
To be eligible to nominate and vote in Division elections, you must be subscribed to the Division concerned. To subscribe to Divisions, you can update your membership record through the new on-line Members' area at https://members.rsc.org/site/RiSE/Contacts/Sign_In or contact
tel: +44(0)1223 432141; email: membership@rsc.org
There are two ways of submitting a nomination:
Self-nomination
Any member, regardless of membership category, may self-nominate for one vacancy (this does not prevent a self-nominating member from being nominated for another vacant position by either the Nominations Committee, any other RSC Board or Committee or another member).
Other nomination
Any member, regardless of membership category, may propose candidates for nomination.
All nominations are required to be accompanied by names of two RSC members willing to second the nomination. This shall form part of the candidate's application.
For elected members of the Board of Trustees, Member Communities Board, Professional Standards Board and the Inclusion and Diversity Committee, the Nominations Committee will, confirm the candidate's willingness to be nominated and evaluate all valid nominations to produce a shortlist of candidates who meet the requirements of the role descriptor and can demonstrate the requisite of skills and experience to fulfil the role. The shortlist of successful candidates will be put forward for election.
The RSC has contracted with Mi-Voice, an electoral service provider. Mi-Voice, on behalf of the RSC, has set up a secured online nominations website at: https://www.mi-nomination.com/rsc
Please go to this link where further information is available on our vacancies and where members are able to submit their nomination for the vacancy they wish to stand for.
Important documents
Please read these documents before submitting your nomination.
General Principles and Working Practices
Closing date for receipt of completed nominations is 17.00 on Monday 8 February 2021.
Governance Review
Governance review
Our trustees' most important role is to steward the Royal Society of Chemistry's 177-year heritage and to plan for an even more successful future. This is why our Board of Trustees – called our Council – accepted the recommendations of our recent governance review led by our president, Professor Sir John Holman. Some of these recommendations involve changing elements of the membership of Council.
In making these changes we will gain even better expertise, planning and decision-making abilities, which will enable our community to continue to grow and succeed.
Good governance in charities is fundamental to their success. A charity is best placed to achieve its ambitions and aims if it has effective governance and the right leadership structures. Skilled and capable trustees will help a charity attract resources and put them to best use. Good governance enables and supports a charity's compliance with relevant legislation and regulation. It also promotes attitudes and a culture where everything works towards fulfilling the charity's vision.

(Charity Governance Code 2017)
---
Background
Our president, Professor Sir John Holman, initiated in 2016 a review of our governance to clarify the role of the trustees, the structure and membership of Council (Board of Trustees), boards and committees and the effectiveness of the relationship with the executive.
Working with our staff, members and external specialists, and to standards and frameworks of sector best practice, the review identified that there is capacity for improvement of aspects of our governance, including:
the purpose and function of the boards
the skills mix required from trustees to effectively discharge their legal and financial responsibilities
a culture that facilitates high-level strategic conversations, effective self-evaluation and inclusivity across the governance structure
the governance schedule and a realistic view of volunteer commitment
the nominations and elections process
[We want to ensure] an organisation that is fit for chemistry in the 21st century, and the diverse community within which it operates – and to enable the Royal Society of Chemistry to respond to that community and its changing needs.
---
Proposed changes
Council approved 25 recommendations for changes to our governance structures and processes. Three of these – specifically those related to the make-up of Council – require changes to our by-laws. These are:
The role of honorary treasurer will become appointed from within the membership rather than elected from within the membership. (Due to the complex nature of this role, the associated skills-set and significant time commitment, there are often no nominees for election to the role of Honorary Treasurer and the position has to be filled by appointment. By formalising this practice, we can ensure that candidates continue to have the appropriate skills-set and understanding of the time commitment demanded by this role).
At the end of their term of office, the president will step down as a trustee (allowing the president-elect to serve a two-year term of office before becoming president for two years).
Up to three non-Royal Society of Chemistry members may be appointed as trustees (to ensure flexibility in finding an appropriate collective skills base of our trustees).
We will present these proposals at our Annual General Meeting in 2018 and, if passed by voting members, to the Privy Council for approval.
The remaining recommendations propose operational changes, such as the structure of our boards and committees, and working practices for Council, boards and committees. Council have already accepted these changes and we will implement them after the AGM in 2018.
Council has approved the following governance framework, which we will implement from July 2018: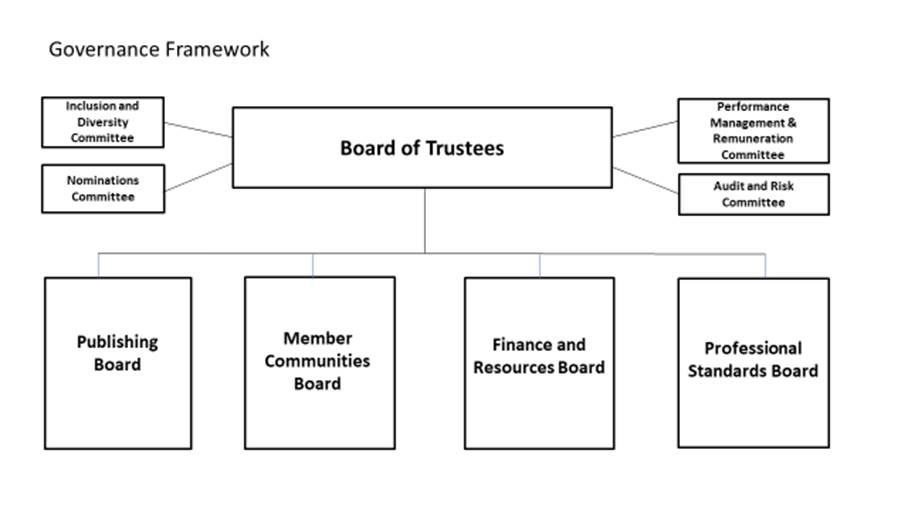 Through this framework of boards and committees, we will ensure that we meet our legal and financial responsibilities and that we develop our strategic aims and objectives with recognition of the diversity of our activities, the sectors we operate in, and the communities we engage with.
These boards and committees will be supported by a number of sub-committees and working groups with responsibility for a specific task (such as the Admissions Committee, Benevolent Fund Grants Committee etc).
We will also be creating a Strategic Advisory Forum, intended to provide advice to Council, from a global perspective, on how the chemical sciences are likely to develop over the next 10-20 years and what issues and opportunities Council (as well as boards and staff) might need to take into consideration in developing and implementing our strategy.
Contact for further info: Gemma Wood
Leadership Team
Send us an email and we will be happy to help with your enquiry
Email:
Governance Team
For enquiries regarding our structure and governance
Email:
Share