As a charity, we are governed by our Board of Trustees who may appoint boards and committees and delegate such powers to them as it may think fit.
Our boards and committees are formed through elected representative members, who contribute to guiding and driving our strategies and activities. Find out more about them below and meet Trustees and Leadership Team, and view current vacancies and elections.
Board of Trustees
The Board of Trustees consists of up to 18 members. Nine Trustees are elected by the membership and up to nine are appointed by the Board itself, which includes the Honorary Treasurer and those who serve as the Chairs of the Boards. The normal term of office is four years.
The Board of Trustees is chaired by our President who serves two years as President-Elect, two years as President. Our members can contact the Governance team if they wish to view Board minutes.
The President, President-Elect and Honorary Treasurer are the Honorary Officers of the Royal Society of Chemistry.
Professor Gill Reid CChem FRSC FRSE
President 2022-2024
Gill Reid is Professor of Inorganic Chemistry at the University of Southampton and was Head of School between 2016 and 2020.
Born and raised in Grangemouth, Scotland, Gill obtained both her BSc and PhD at the University of Edinburgh, before being appointed to a lectureship in Chemistry at Southampton in 1991.
Her research focuses on synthetic coordination and organometallic chemistry and their use in chemical vapour deposition and electrodeposition for the controlled growth of functional semiconducting thin film and nanostructured materials. These have important applications, such as solid-state memory, thermoelectric energy harvesting and battery materials. She also works on the development of metal-chelate binders for fluorine-18 towards positron emission tomography (PET) imaging and is the author of over 350 research papers.
She previously served as an RSC Trustee (2011-15) and chaired the Outreach Working Group until 2018.
Dr Annette Doherty OBE FRSC
President Elect, 2022-2024
Annette has 35 years of international experience working within the pharmaceutical sector, including at Warner-Lambert, Pfizer and most recently GSK where she was Senior Vice President, Global Head of Product Development and Clinical Supply. She has been directly involved in the research, development and launch of over 30 new medicines in respiratory, infectious diseases, cancer and inflammatory conditions.
She is currently Senior Advisor at Frazier Life Sciences, a team investing in and building companies developing and commercializing novel therapeutics. She has served on the Boards of various research, educational and charitable organizations. She currently holds various non-executive positions including at the Cambridge University Hospitals NHS Foundation Trust, the Addenbrookes Hospital Charitable Trust (ACT), The Royal Society of Chemistry (RSC) charity and Member of the Tonbridge Grammar School Academy Trust. She has also recently been appointed as a Trustee of the St John Ambulance charity.
She has a BSc in Chemistry (1982) and a PhD in Organic Synthesis (1985) from Imperial College London and has conducted postdoctoral research with a NATO fellowship at Ohio State University (1985-1987).
She has recently been elected as the next President of the Royal Society of Chemistry, a charity focussing on education and research to advance the chemical sciences.
In 2009, Annette was awarded an OBE in recognition of her services to the pharmaceutical sector.
Claire Gallery-Strong CSci CChem FRSC
Honorary Treasurer, retires 2025
Claire Gallery-Strong has developed her chemistry career working across a variety of sectors including pharm, environmental and nuclear. Today, she is responsible for a national nuclear decommissioning waste programme, working for the Nuclear Decommissioning Authority. Graduating from NUI Galway, Ireland, she moved to the UK to develop in the field of environmental chemistry. Following an interest in analytical chemistry, she studied an MSc at Kings College London in Forensic Science specialising in chromatography. She moved into pharma and having transitioned sector once, brought her chemistry skills into the nuclear sector. She has developed her career through a broad spectrum of roles directing engineering project and programmes, introducing portfolio thinking and bringing her scientific understanding to solve problems and deliver change.
Claire is an active chemist, mentoring for MRSC and CChem candidates. She champions change in her sector and established a younger members network early in her career and more recently has led the way in founding womens networks. Her work in these areas have been recognised by awards.
Dr Stephen J Byard CSci CChem FRSC
Elected Trustee, retires 2027
Steve Byard completed his post-graduate research in the Department of Organic Chemistry, University of Leeds, and has subsequently spent more than 34 years working in the pharmaceutical industry for global R&D organisations. He is currently a Principal Research Fellow at Quotient Sciences' Alnwick site in the UK. Steve has strong interests in physical and molecular characterisation for the optimisation of pharmaceutical products, with extensive involvement in the applications of solution/solid-state nuclear magnetic resonance and magnetic resonance imaging.
Steve holds an honorary professorship in the Physics Department at the University of Warwick, visiting position at the University of Leeds and an Associate Lecturer at the University of Northumbria. He is a Fellow of the Royal Society of Chemistry and Chartered Chemist, has held the position of Secretary for the Royal Society of Chemistry NMR Discussion Group for an extended period and was Chairperson of the Chemists' Community Fund Committee for four years. He is a member of the Formulation Forum Committee of the Society of Chemical Industry.
Professor Edwin C Constable CChem FRSC
Elected Trustee, retires 2027
Professor Edwin Constable was born in Edinburgh. He studied chemistry at Oxford, where he gained a B.A. and D.Phil. He moved to the University of Cambridge where he was a University Lecturer and Fellows of Robinson College in. He remained in Cambridge until he was appointed Professor of Inorganic Chemistry at the University of Basel. After a short period at the University of Birmingham (2000-2002), he returned to the University of Basel as Professor of Chemistry in 2002.
He has over 650 peer-reviewed publications and is highly cited (25,000 citations, h-index 79) with interests covering all aspects of chemistry and the communication of science.
He held an ERC Advanced Grant, was Vice-President of the University of Basel and is currently Chairman of the Swiss Academies Expert Group on Research Integrity. He was recently honoured by being elected as a Fellow of the Royal Society of Edinburgh.
Professor Aline Miller FRSC
Elected Trustee, retires 2027
Aline Miller is a Professor of Biomolecular Engineering and Associate Dean for Business Engagement and Innovation at The University of Manchester. She is a chemist by training having gained her BSc from Strathclyde University (1997) and her PhD in Polymer Chemistry from Durham University (2000). She went onto hold a New Hall College Junior Research Fellowship in the Cavendish Laboratory, Cambridge University before joining Manchester as Lecturer in 2002 and was promoted to Professor in 2014. She took a three-year sabbatical (2018-21) to run Manchester BIOGEL Ltd as CEO. Her research interests lie at the life-science interface with an emphasis on applying physical principles to mimic, manipulate and improve biomolecular self-assembly for material design and application. She has a strong track record of raising funds and translating her academic research into the commercial and clinical setting through co-founding three spin-out companies. Her work has led to several awards including the 2008 the Royal Society of Chemistry MacroGroup UK Young Researchers Medal, the 2014 Philip Leverhulme Prize for Engineering and she was Finalist for the Great British Entrepreneur Award 2021.
Aline has been Treasurer of the Recent Appointees in Polymer Science Group (2002-2005), affiliated to RSC MacroGroup UK and also been Member (2008-18), Treasurer (2010-16) and then Chair (2017-19) of the Polymer Physics Group, which is a joint Interest Group between the Institute of Physics and the RSC.
Dr Mandy Cooke MRSC
Elected Trustee, retires 2025
Mandy Cooke graduated from Leicester University with a BSc in Chemistry and PhD in Synthetic Organic Chemistry before moving into the Pharmaceutical Industry, where she has worked for more than 30+ years. During her career, she has worked in a broad range of strategic leadership roles across technical governance, product quality and regulatory affairs. She is currently a Senior Quality Director at GSK in an enterprise quality oversight position - leading key strategic quality programmes across the organisation. She has extensive advocacy and governance experience both within her organisational roles and within pharmaceutical industry associations.
Whilst her work experience is much broader than her early University education, she acknowledges that this chemistry knowledge and sound scientific basis has supported her throughout her career – thus feeding her commitment to actively contribute to the role of the RSC in enabling its' members to succeed in their chemistry education. She is also an experienced change leader and passionate about enabling organisations achieve their strategic vision and continually improve.
Professor Richard Jackson CChem FRSC
Elected Trustee, retires 2025
Richard Jackson studied at the University of Cambridge, before undertaking postdoctoral work at the ETH Zurich. He started his independent career at the University of Newcastle, being promoted to Reader and then Professor in Synthetic Organic Chemistry. He moved to a Chair in Synthesis at the University of Sheffield, serving as Head of the Department of Chemistry for two terms. He recently retired from the University and is now emeritus Professor.
During his research career, he has published in the general area of synthetic organic chemistry, especially on the application of organometallic chemistry to the synthesis of amino acids, and more recently co-authored papers with theoretical chemists and biologists.
He was a member of the Review Group for the Quality Assurance Agency for Higher Education (QAA) Subject Benchmark Statement in Chemistry, a member of the Chemistry Review Panel for the Higher Education Academy Physical Sciences Centre Review of the Student Learning Experience in Chemistry, and an elected member of the Standing Committee of Heads of Chemistry UK.
In Sheffield, he served on the University HR Committee, the Health and Safety Committee, and the University Finance Committee. He was as an elected member of the University of Sheffield Council, and Trustee.
Remya Norris CChem MRSC
Elected Trustee, retires 2025
Remya Norris is a biocidal product registration specialist at AkzoNobel. She has over 14 years' experience in research and development within paints and coatings as well as previous experience in analytical and wider industrial settings. Remya has continued to be an active chemist, working with local and regional sections and other committees. She champions chemistry throughout academia and industry, carrying out talks and various forms of outreach. She has also founded twinning events between international and UK local sections with her work being recognised by the Inspirational Member award.
Professor Jeremy Sanders CBE FRSC FRS
Elected Trustee, retires 2025
Jeremy studied for his B.Sc. at Imperial College, London and for his PhD at the University of Cambridge. His research career has roamed across organic, inorganic, physical and biological chemistry, and currently involves trying to understand the polymorphism of nanocrystals created by mechanical grinding. His career at Cambridge included service as Head of Chemistry, then Head of Physical Sciences and finally as Pro-Vice-Chancellor (PVC) until his formal retirement in 2015. His responsibilities as PVC included the wellbeing of 11,000 staff, Energy and Sustainability, and relationships with local communities and authorities.
He is one of the "175 Faces" recognised by the RSC for his contributions to Equality and Diversity, and he continues to have national and international roles advocating for diversity and inclusion. He is a member of the Council of Imperial College, and Chair of Storey's Field Community Trust, which is responsible for building community in the Eddington development in North West Cambridge.
Professor Robert Mokaya OBE FRSC FRS
Appointed Trustee, Chair of Inclusion and Diversity Committee, retires 2027
Robert Mokaya received his B.Sc. in Chemistry from the University of Nairobi in 1988 and was awarded his PhD from the University of Cambridge in 1992. Following a Research Fellowship at Trinity College, Cambridge, he was awarded an EPSRC Advanced Fellowship in 1996. Mokaya joined the School of Chemistry at The University of Nottingham as a lecturer in Materials Chemistry in 2000 where he is now Professor of Materials Chemistry and Pro-Vice-Chancellor Global Engagement. He is a Royal Society Wolfson Research Merit Award holder (2017-2022). He was awarded OBE in 2022 for services to the Chemical Sciences and was elected Fellow of the Royal Society in 2023.
His research interests are on the design, synthesis and characterisation of new forms of sustainable porous materials and the study of their structure-property relations. The research involves exploring fundamentally new synthesis methods that are simpler, cheaper, and more efficient and offer valorisation routes to materials with optimised properties for targeted sustainable energy applications.
Professor Saiful Islam CChem FRSC
Appointed Trustee, retires 2024
Saiful Islam joined the Department of Materials as Statutory Chair in Materials Modelling at the University of Oxford after moving from the University of Bath. He grew up in Crouch End London and obtained his degree and PhD from University College London, followed by a Postdoctoral Fellowship at the Eastman Kodak Labs in New York, and a lecturer position at the University of Surrey.
His research encompasses major contributions to the deeper understanding of atomistic processes in materials for lithium batteries and perovskite solar cells with over 225 publications. He is the PI of the Faraday Institution CATMAT project on lithium battery cathodes. He has received several awards including the 2020 ACS Award in Energy Chemistry, the 2017 RSC Peter Day Award for Materials Chemistry and the 2013 Royal Society Wolfson Research Merit Award, and is one of the RSC 175 Faces of Chemistry. He currently serves on the RSC journal Advisory Boards of Energy & Environmental Science and Journal of Materials Chemistry A, and previously served on the RSC Materials Chemistry Division Council.
Saiful presented the Royal Institution Christmas Lectures in 2016 for BBC TV on the theme of energy. He serves on the Royal Society Public Engagement Committee and is a Patron of Humanists UK.
Jonathan Oxley CChem FRSC CMgr FCMI
Appointed Trustee, Chair of Member Communities Board, retires 2026
Jonathan Oxley graduated from Heriot Watt University with a degree in Chemistry, joining BP for a career of 24 years, latterly across the sustainable energy sector, including a secondment to the Energy Technologies Institute where he co-led a bioenergy project to underpin 2008 UK Climate Act. Jonathan was most recently at the World Energy Council, where he led their member, government and institutional engagement.

A Chartered Fellow of both the Royal Society of Chemistry and the Chartered Management Institute, Jonathan has a passion for sustainability in business and for engaging communities in a common endeavour. He is a Tallow Chandler gold medal winner, and was previously a member of the NERC Innovation Advisory Board.
Professor Duncan Graham CChem FRSC FRSE
Appointed Trustee, Chair of Publishing Board, retires 2024
Duncan Graham is the Research Professor of Chemistry and Head of Department for Pure and Applied Chemistry at the University of Strathclyde in Glasgow. He obtained his BSc Honours (1992) and PhD in Chemistry (1995) from the University of Edinburgh before joining the University of Strathclyde in 1996 as a postdoctoral researcher. In 1997 he secured a 5-year BBSRC Fellowship to start his independent research career. He was appointed as a lecturer in 2002 and promoted to professor in 2004 then elected to the fellowship of the Royal Society of Edinburgh in 2007. He was awarded the RSC's Corday Morgan prize in 2009, a Royal Society Wolfson Merit Award in 2010 and the RSC's Theophilus Redwood award in 2016. He served as Editor in Chief of the RSC journal Analyst for 7 years and serves on several editorial advisory boards including Chemical Society Reviews and Chemical Science. He was president of the analytical division of the Royal Society of Chemistry (2017-2020), and chair of the analytical chemistry trust fund (2017-2020). His scientific interests are in using synthetic chemistry to produce sensors that respond to a specific biological species or events as measured by Raman spectroscopy or SERS and collaborating with scientists from different disciplines to exploit these approaches.
Professor David M Smith CChem FRSC
Appointed Trustee, Chair of Professional Standards Board, retires 2026
David Smith took up his first independent academic position at the University of Exeter, where alongside his developing interests in high-resolution spectroscopy, he began to take on first departmental and then institutional leadership roles in education. He moved to the University of Bristol on the closure of the Chemistry department in Exeter to become the manager of the Bristol ChemLabS Centre for Excellence in Teaching and Learning. He has subsequently taken on more significant leadership roles, including as Deputy Head of the School of Chemistry. As Education Director, he was responsible for undergraduate and taught postgraduate education for the Faculty of Science including the development and implementation of the University educational strategy, ensuring academic standards, and supporting students, as well as leading several institution-wide educational enhancement projects. He has recently moved to Swansea University to become Pro-Vice Chancellor and Executive Dean for the Faculty of Science and Engineering.
He is committed to equality, diversity and inclusion. He is passionate about widening participation and ensuring equality of opportunity in higher education—from outreach at all levels, through developing new opportunities for students, such as degree apprenticeships and a new foundation programme, to supporting students from traditionally underrepresented groups to achieve their potential and close attainment gaps.
Leadership Team
Our Leadership Team manages the implementation and operational delivery of the Royal Society of Chemistry's agreed strategy and programmes of activity by promoting leadership and direction and works closely with Council to ensure we are governed effectively.
Helen Pain CSci CChem FRSC, Chief Executive Officer
Helen joined the Royal Society of Chemistry after completing a degree and PhD in Chemistry. She is a Chartered Chemist and a Chartered Scientist. At the RSC, she has led many of its strategic functions and was appointed Deputy CEO in 2015. Helen is a champion for the profession and has commissioned bold campaigns such as Breaking the Barriers and our work to support Technicians.
She took up the role of Acting CEO of the Royal Society of Chemistry in January 2020 and was appointed Chief Executive in June 2021.
From 2018 - 2021 Helen was Chair of the Science Council, a UK organisation for the advancement of the science profession and now chairs the Technician Commitment Steering Board.
Paul Lewis FRSA, FInstLM, Chief Operating Officer
Paul joined the Royal Society of Chemistry in 2018. As COO, Paul provides leadership to cross-organisational operations in accordance with our strategy, budget and business plans to ensure that organisational goals and objectives are met. He leads the organisation's publishing, technology and sales & marketing activities as well as overseeing our global operations including the Estates and Facilities teams.
Paul has a wider organisational leadership role representing the RSC in the UK and internationally and is the designated deputy to the CEO. A qualified teacher with an MBA, he has substantial senior leadership experience in the educational assessment, adult training and, STM sectors with specialist Government-to-Government consulting and, international operating expertise.
Rebekah Ayres, Director of People and Culture
Rebekah joined the RSC in 2022 following a career focused on enabling organisations to improve performance through organisation development and design, the leadership of large scale and complex change, and the delivery of excellent services.
She has previously worked with a wide range of private and public sector organisations, most recently focused on developing capability-based operating models and transforming structures, processes, and cultures in senior roles across a number of UK Government departments. She is passionate about working with people to inspire ambitious change and create great places to work.
Rebekah is a proud Liverpudlian, now living in Central London.
Stephen Joyce FCPFA, Finance Director
Stephen joined the RSC in 2016. As Finance Director he has lead responsibility for all financial matters and works closely with our Trustees to ensure that our financial management continues to be sound.
Stephen has over 30 years' experience of working in public sector, commercial and charity organisations. Before joining us he held senior finance roles in local government, major national charities and a University.
Jo Reynolds FRSC, Director of Science and Communities
Jo joined the Royal Society of Chemistry in 2017, having previously been responsible for developing and evaluating Cancer Research UK's first five-year research strategy. She also led a programme of change across their UK network of centres and transformed their brand and engagement with the research community.
She has a PhD in biochemistry from the University of Cambridge.
Sarah Robertson MSc, Director of Commerical Innovation
Following a career in scientific and educational publishing, most recently with Oxford University Press, Sarah joined the Royal Society of Chemistry in 2015 in the new post of Director of Education.
She is committed to understanding the needs of teachers and learners, and to supporting the development of science education, from primary through to further and higher education. Sarah has an MSc from Imperial College London, and lives in Gloucestershire.
Amanda Spencer PhD, Director of Technology
Amanda joined the RSC in January 2020. She was formerly CIO and Director of IT, Library and Technical Services, at the Royal College of Art, where she was responsible for a broad portfolio which included digital transformation. Prior to that, Amanda held a number of roles at the National Archives, including leading Digital and Digital Archiving programmes with Central Government, so brings a wide range of experience in strategy, operational delivery, stakeholder engagement and workforce development.
Emma Wilson MRSC, Director of Publishing
Emma has more than 15 years' experience working in the scholarly publishing sector. She has worked for both commercial and not-for-profit publishers in a variety of editorial and business development roles, joining the Royal Society of Chemistry in 2006 as a Journal Publisher.
Prior to her career in publishing, Emma was the recipient of an EMBO research fellowship after obtaining her PhD in biochemistry from Cambridge University.
All images © Royal Society of Chemistry, courtesy of MPP Image Creation and Stephen Lake
Vacancies and elections
Our Trustees would like the members serving on our governance bodies to represent the breadth and diversity of the chemical sciences, with reference to industrial and academic backgrounds, geographical spread, gender, ethnicity and age range.
The diagram below illustrates all of the RSC committees which feed into the Board of Trustees. See our committees section and sub-committees section (under Boards and committees tab) for more details.
Elections Open on Wednesday 10 May 2023
The Nominations Committee met to evaluate nominations against the role descriptors for elected members of the Board of Trustees, elected member of the Member Communities Board and elected member of the Professional Standards Board and agreed a shortlist of candidates who met the person specification.
The following candidates are put forward to election:
Elected Trustees
Stephen Byard CSci CChem FRSC
Edwin Constable CChem FRSC CorrFRSE
Jamil Khan CChem FRSC
Aline Miller FRSC
Alexander Reip CChem FRSC
John Seddon CSci CChem FRSC
Mark Weller FRSC
Sam Whitehouse CChem FRSC
Elected member of the Member Communities Board
Interest Group representative
Jonathan Bourne FRSC
Rowena Lucy Fletcher-Wood CChem MRSC
Elizabeth Page CChem FRSC
Alberto Saiani FRSC
Local Section representative
Helen Blanchard FRSC
Tariq Javed FRSC
Deepa Khushalani FRSC
Karen Marshall FRSC
Venkateswarlu Peesapati FRSC
Richard Whewell EurChem FRSC
Sharon Williams MRSC
Laura Yates CChem MRSC
Channabasaveshwar Yelamaggad FRSC
Elected member of the Professional Standards Board
Maria Inmaculada AndresTome MRSC
Clive Brading CSci CChem FRSC
Philippa Cranwell CChem MRSC
Henry Dube CSci CChem FRSC
Pravin Ingole
Andrew Leach CSci CChem MRSC
Ailsa Lynch CChem MRSC
Sandile Phinda Songca FRSC
Debra Willison CChem FRSC
Christopher Wright CChem FRSC
Elections will also be held for Subject Communities and the candidates are:
President of the Faraday Community for Physical Chemistry
Xu Hou MRSC
Yi-Tao Long FRSC
Andrew Mount CChem FRSC
President of the Materials Chemistry Community
Liberato Manna FRSC
Neil Robertson CChem FRSC
David Scanlon FRSC
Elected member of the Analytical Science Community Council
Karen Faulds FRSC FRSE
Amarnath Mishra MRSC
Caroline Pollard
Julian Rae FRSC
Christopher Waldron MRSC
Claire White RSci MRSC
Yi-Lun Ying MRSC
Elected member of the Chemistry Biology Interface Community Council
Afaf El-Sagheer MRSC
Parasuraman Jaisankar FRSC
Sadhna Mathura MRSC
Samiran Mondal MRSC
Andrew Truman MRSC
Elected member of the Environment, Sustainability and Energy Community Council
Amr Heikal CChem FRSC
Sheena Hindocha MRSC
Samual Perry MRSC
Era Upadhyay
Elected member of the Faraday Community Council
R M Gamini Rajapakse FRSC
Ranjan Dey FRSC
Ketan Kuperkar MRSC
Andrew Logsdail CChem MRSC
Elected member of the Materials Chemistry Community Council
Stephen Eichhorn FRSC
Lei Fang FRSC
Alex Ganose MRSC
Robert Hoye MRSC
Caroline Knapp MRSC
Tong Lin FRSC
Soumya Mukherjee MRSC
Ioannis Mylonas-Margaritis MRSC
Ahsan Qurashi FRSC
Maria Veronica Sofianos MRSC
Humphrey Yiu CSci CChem MRSC
Elected member of the Organic Chemistry Community Council
Mukund Chorghade CChem FRSC
Adrian Dobbs CChem FRSC
Andrew Jamieson FRSC
Ganiyat Kehinde Oloyede FRSC
Hitendrakumar Patel FRSC
Teghtegh Samoh MRSC
Elections: your vote counts
Voting will open on Wednesday 10 May 2023 to elect members of the Board of Trustees, members of the Member Community Board, and members of the Professional Standards Board and to fill the vacancies on Subject Communities.
What happens next?
All members of the Royal Society of Chemistry and members of the respective Subject Community will be contacted by Mi-Voice with information on how to vote online.
Members who are eligible to vote in the 2023 elections are those who paid their 2023 membership subscription by 1 April 2023. To be eligible to vote in Subject Community elections you must have subscribed to the respective Subject Community.
When voting opens
Use the Vote with Mi-Voice link to view candidates standing in ALL of the Royal Society of Chemistry elections.



If you have not received an email from Mi-Voice please check your spam mailbox in the first instance before contacting Mi-Voice, their contact details can also be found on their website here.
Voting closes at 17:00 (UK time) on Wednesday 7 June 2023

Successful candidates will be announced at our hybrid Annual General Meeting on Wednesday 12 July 2023.
Important documents:

Electoral Regulations

General Principles and Working Practices
Governance Review
Governance review
Our trustees' most important role is to steward the Royal Society of Chemistry's 177-year heritage and to plan for an even more successful future. This is why our Board of Trustees – called our Council – accepted the recommendations of our recent governance review led by our president, Professor Sir John Holman. Some of these recommendations involve changing elements of the membership of Council.
In making these changes we will gain even better expertise, planning and decision-making abilities, which will enable our community to continue to grow and succeed.
Good governance in charities is fundamental to their success. A charity is best placed to achieve its ambitions and aims if it has effective governance and the right leadership structures. Skilled and capable trustees will help a charity attract resources and put them to best use. Good governance enables and supports a charity's compliance with relevant legislation and regulation. It also promotes attitudes and a culture where everything works towards fulfilling the charity's vision.

(Charity Governance Code 2017)
---
Background
Our president, Professor Sir John Holman, initiated in 2016 a review of our governance to clarify the role of the trustees, the structure and membership of Council (Board of Trustees), boards and committees and the effectiveness of the relationship with the executive.
Working with our staff, members and external specialists, and to standards and frameworks of sector best practice, the review identified that there is capacity for improvement of aspects of our governance, including:
the purpose and function of the boards
the skills mix required from trustees to effectively discharge their legal and financial responsibilities
a culture that facilitates high-level strategic conversations, effective self-evaluation and inclusivity across the governance structure
the governance schedule and a realistic view of volunteer commitment
the nominations and elections process
[We want to ensure] an organisation that is fit for chemistry in the 21st century, and the diverse community within which it operates – and to enable the Royal Society of Chemistry to respond to that community and its changing needs.
---
Proposed changes
Council approved 25 recommendations for changes to our governance structures and processes. Three of these – specifically those related to the make-up of Council – require changes to our by-laws. These are:
The role of honorary treasurer will become appointed from within the membership rather than elected from within the membership. (Due to the complex nature of this role, the associated skills-set and significant time commitment, there are often no nominees for election to the role of Honorary Treasurer and the position has to be filled by appointment. By formalising this practice, we can ensure that candidates continue to have the appropriate skills-set and understanding of the time commitment demanded by this role).
At the end of their term of office, the president will step down as a trustee (allowing the president-elect to serve a two-year term of office before becoming president for two years).
Up to three non-Royal Society of Chemistry members may be appointed as trustees (to ensure flexibility in finding an appropriate collective skills base of our trustees).
We will present these proposals at our Annual General Meeting in 2018 and, if passed by voting members, to the Privy Council for approval.
The remaining recommendations propose operational changes, such as the structure of our boards and committees, and working practices for Council, boards and committees. Council have already accepted these changes and we will implement them after the AGM in 2018.
Council has approved the following governance framework, which we will implement from July 2018: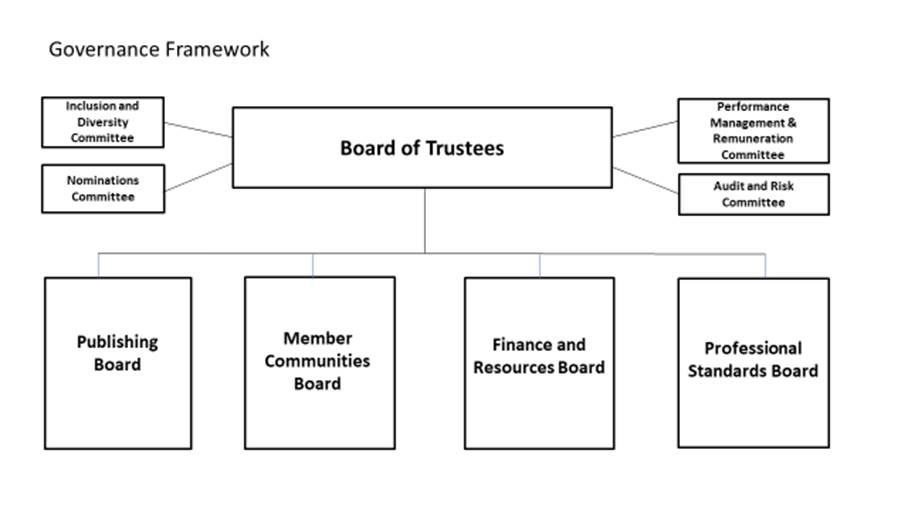 Through this framework of boards and committees, we will ensure that we meet our legal and financial responsibilities and that we develop our strategic aims and objectives with recognition of the diversity of our activities, the sectors we operate in, and the communities we engage with.
These boards and committees will be supported by a number of sub-committees and working groups with responsibility for a specific task (such as the Admissions Committee, Benevolent Fund Grants Committee etc).
We will also be creating a Strategic Advisory Forum, intended to provide advice to Council, from a global perspective, on how the chemical sciences are likely to develop over the next 10-20 years and what issues and opportunities Council (as well as boards and staff) might need to take into consideration in developing and implementing our strategy.
Contact for further info: Gemma Wood
Leadership Team
Send us an email and we will be happy to help with your enquiry
Email:
Governance Team
For enquiries regarding our structure and governance
Email:
Governance Co-ordinator
Request a postal ballot paper
Tel:

020 7440 3341

Email:
Membership
For all membership applications and enquiries
Tel:

+44 (0) 1223 432141

Email:
Share