Organic Division Activities in Brazil
10-13 November 2013
15th Brazilian Meeting on Organic Synthesis, Campos do Jordão
In November, the RSC Organic Division allocated awards to allow early career researchers from the UK and Latin America to attend the 15th Brazilian Meeting on Organic Synthesis.
The winner was selected by a selection committee which will included members of the RSC Organic Division and members of the BMOS Organizing Committee.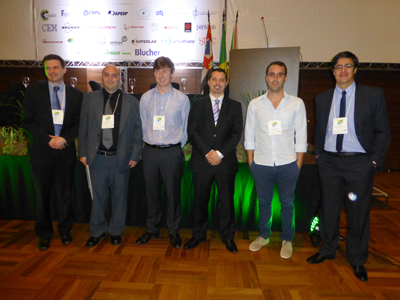 Presentation of the BMOS Young Investigator Award 2013
Winners received a free registration to the meeting, a certificate, an invitation to deliver a flash presentation within the scientific programme and a contribution towards travel and accommodation to attend the conference.
The successful applicants included:
Antonio C. B. Burtolosa, Chemistry Institute of São Carlos (Brazil)
Ariel M. Sarotti IQUIR-CONICET Instituto de Química Rosario (Argentina)
Brenno A. D. Neto, University of Brasilia (Brazil)
Gonçalo Bernardes, University of Cambridge (UK)
John Bower University of Bristol, UK.
The conference included presentations from internationally renowned leaders in the field.
The RSC/BMOS Young Investigator Award is sponsored by the Organic Division of the Royal Society of Chemistry.
Related Links

15th BMOS - Brazilian Meeting on Organic Synthesis
10-13 November 2013, Campos do Jordão, Brazil - Conference Homepage
External links will open in a new browser window
Contact and Further Information
RSC Science
Royal Society of Chemistry, Thomas Graham House, Science Park, Milton Road, Cambridge CB4 0WF
Tel: 01223 422699

---