Bill Bryson and Sir David Attenborough light up Burlington House
20 September 2006
Internationally acclaimed author Bill Bryson and world famous conservationist David Attenborough were the star attractions at the Burlington House Courtyard Party launching the new 'Cultural Campus.'
Science minister Lord Sainsbury also attended the event to commemorate the closer collaboration of the six learned societies which share the Burlington House courtyard.
Mr Bryson spent the whole day at the RSC, where he presented prizes to the winners of the inaugural RSC Bill Bryson Prize for Science Communication.
Along with former president Dr Simon Campbell, Mr Bryson also personally signed certificates for every entrant into the contest.
Dr Campbell, Mr Bryson and Education in Chemistry editor Kathryn Roberts judged the final round.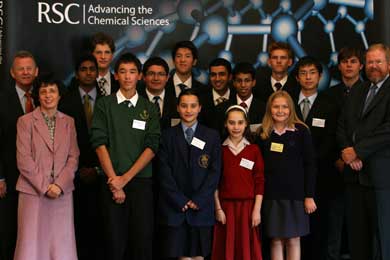 Bill Bryson, former RSC president Simon Campbell and Education in Chemistry editor Kathryn Roberts with the winners of the RSC Bill Bryson Prize for Science Communication
The overall winner was Ollie Craig, whose magazine on crime scene investigation was inspired by the TV show CSI.
The secondary school category was won by The Bedford School, who submitted a science magazine made by nine year 12 students (Dominic England, Edward Johnson, Jonathan Andrews, Janak Bechar, Justin Bell, Phillip Cai, Edmund Lam, Dhaval Panchal and Nikhil Vaghela).
The primary category was won by Amalia Gherson and twins Katie and Lauren Shemtob - from year six at Naima Jewish Preparatory School - who fashioned a model of the human body using household items.
Mr Bryson, whose new book 'The Life and Times of the Thunderbolt Kid' has just been released, said: "It was a great honour when the Royal Society of Chemistry decided to inaugurate this prize under my name.
"The entries for the contest were so varied and of such a high quality that it was difficult to pick a winner.
"But the judges all loved the creativity shown in the winning entries."
Dr Campbell said: "We received more than 400 entries for the secondary category and more than 60 for the primary category - and it was very difficult to choose section and overall winners, because the quality was so high.
"On behalf of the RSC I'd like to thank Bill for taking the time to come in and meet the winners, as well as helping judge the final round and signing all the certificates."
Mr Bryson and Dr Campbell then joined distinguished guests at the Courtyard Party to launch the new Burlington House Cultural Campus.
Sir David Attenborough and science minister Lord Sainsbury spoke at the event, which drew together all six learned societies which share the courtyard.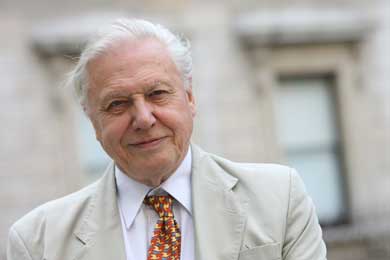 Sir David Attenborough at the Burlington House Courtyard Party
The RSC, the Society of Anitiquaries, the Linnean Society, the Geological Society, the Royal Astronomical Society and the Royal Academy have all pledged to work more closely together in the future, to the mutual benefit of all.
Sir David, whose interests span the remit of all six societies, spoke of the affection he has for the courtyard and his pride in bringing visitors from other countries to visit it.
He said: "Whenever I bring visitors here I am able to say 'this is a unique place, shared by art, science and history.'"
Contact and Further Information
Jon Edwards
Media Executive
Royal Society of Chemistry, Burlington House, Piccadilly, London, W1J 0BA
Tel: +44 (0) 20 7440 3322 or +44 (0) 7770 431013

---