Magic bullet for bone disease
24 October 2006
Phosphorus compounds that deliver proteins directly to bones to help them repair are being developed by scientists.
The research is reported in the latest edition of the Royal Society of Chemistry journal Chemical Society Reviews.
Bone tissue contains a massive mineral phase that makes it unique from the rest of the body's tissues.
Dr Hasan Uludag and a team at the University of Alberta are working on an "ideal" drug using bone-seeking proteins, which will act specifically on the diseased bone without affecting surrounding tissues.
Dr Uludag said: "Natural proteins are powerful drugs capable of effective bone repair. Due to their significant side effects in the body, however, they must be delivered only to bones, and not to other organs."
Bisphosphonates are a type of molecule which show a strong affinity for bone. By linking these bone-seeking bisphosphonates to proteins the research team have shown that the targeting efficiency can be improved by increasing the number of bisphosphonates attached.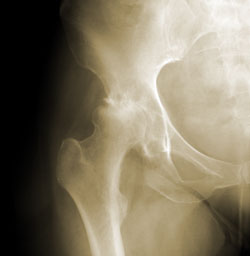 A 'magic bullet' for bone disease will act specifically on diseased bones and not the surrounding tissues.
© iStockphotos
Dr Uludag said: "The critical challenge is to formulate a drug delivery system that delivers the proteins to bones in a pharmacologically active form.
"Given the promise of the bone targeting approach, more concerted focus on this area is expected in the near future.
"The aim is to generate novel pharmaceutical agents specifically for musculoskeletal diseases."
with thanks to Sarah Dixon for the original article
References
S Zhang, G Gangal and H Uludag, Chem. Soc. Rev., 2006,
DOI: 10.1039/B512310k
'Magic bullets' to target bone disease

Phosphorus compounds that deliver proteins directly to bones could be used to combat skeletal disease.
Contact and Further Information
Jon Edwards
Media Executive
Royal Society of Chemistry, Burlington House, Piccadilly, London, W1J 0BA
Tel: +44 (0) 20 7440 3322 or +44 (0) 7770 431013

---