Brains under pressure
26 September 2006
What happens if you get a frog drunk and then take it scuba diving? The answer could help explain how anaesthetics work, claim UK scientists.
Their findings are reported in the latest edition of the Royal Society of Chemistry's journal Chemical Society Reviews.
Dr Agnieszka Wlodarczyk and colleagues from the Royal Institution of Great Britain, London, are currently looking at the effects of high pressure on the brain.
Scientists have found that the effects of various narcotics and anaesthetics on the brain are often reversed or enhanced under high pressure.
When frogs swim in alcohol until they become unconscious, an increase in pressure makes them regain consciousness and resume swimming.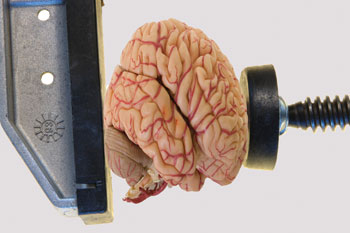 Dr Wlodarczyk said: "Research in this area could shed light on how anaesthetics control the consciousness of the mind.
"One of the most important unsolved scientific problems is consciousness and how the brain works."
A recent development in brain research involves studying the route electric current takes through brain slices in real time.
The slices are treated with dyes that fluoresce as an electrical current passes through them, allowing the route to be mapped. The route taken is believed to determine the brain's state of consciousness.
Dr Wlodarczyk and her team are now mapping these routes in brain slices under high pressure. She said: "This is a new and promising direction in the field."
Dr Stuart Dunbar, a neurobiology expert from Syngenta, UK, said that being able to study tissues in real time is an important stepping stone in brain research.
He said: "This could lead to a better understanding of what happens to the brain under anaesthesia."
with thanks to Nina Athey-Pollard for the original article

References
A Wlodarczyk, PF McMillan and SA Greenfield, Chem. Soc. Rev., 2006,
DOI: 10.1039/b517771p
Anaesthetised brains under pressure

What happens if you get a frog drunk and then take him scuba diving?
Contact and Further Information
Jon Edwards
Media Executive
Royal Society of Chemistry, Burlington House, Piccadilly, London, W1J 0BA
Tel: +44 (0) 20 7440 3322 or +44 (0) 7770 431013

---