Countering the effects of a drug overdose
14 August 2006
Nanoparticles that soak up drugs like a sponge could help to reduce fatalities from overdoses.
The research is reported in the latest edition of The Royal Society of Chemistry Journal Soft Matter.
Tests show that tiny spheres of polyacrylic acid can absorb substantial amounts of an antidepressant and an anaesthetic in just a few minutes.
These porous nanoparticles are small enough to penetrate deep into tissues through fine capillaries, enter efficiently into cells, and evade detection by the immune system.
The research is being conducted by Professor Ponisseril Somasundaran and Dr Soma Chakraborty at Columbia University, New York.
Dr Chakraborty said: "The ability of the nanoparticles to combat overdoses had not previously been explored."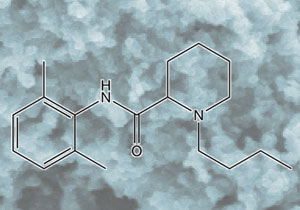 Drugs like bupivacaine can be sequestered with nanoparticles
The tests focussed on the anaesthetic bupivacaine, used in surgery, and amitriptyline, an antidepressant used in suicide attempts - and measured how much of both drugs could be removed by the nanoparticles within five minutes.
They managed to absorb 81 per cent of the antidepressant and 62 per cent of the anaesthetic under conditions that mimic the natural state of the body.
The results have raised hopes that the technique could be used to save the lives of patients who have accidentally had too much anaesthetic administered, or who have deliberately overdosed on antidepressants.
Dr Chakraborty said: "These results suggest that the nanoparticles could swell to facilitate drug extraction when injected inside the body.
"There is significant potential for further research in modifying and improving the nanoparticles to make them more compatible with the human system.
"Our future challenge is to make these nanoparticles more selective towards only the targeted drugs."
with thanks to Elinor Richards for the original article, and to Nicola Nugent for providing it in advance.
Contact and Further Information
Jon Edwards
Media Executive
Royal Society of Chemistry, Burlington House, Piccadilly, London, W1J 0BA
Tel: +44 (0) 20 7440 3322 or +44 (0) 7770 431013

---