Removing herbicides from water
22 September 2006
A new technique for bringing herbicides in water down to safe levels has been developed.
The findings are reported in the latest edition of the Royal Society of Chemistry's Journal of Materials Chemistry.
Professor James Economy and a team at the University of Ilinois have prepared a chemically active fibre that acts as a filter to remove the widely used herbicide atrazine from water.
Professor Economy said: "Atrazine is a potential carcinogen and may disrupt the production of normal hormones."
The US Environmental Protection Agency has set a contaminant level for atrazine of only three parts per billion in drinking water.
Professor Economy said: "It is essential to remove this toxic material from surface waters which arise from run off from farms."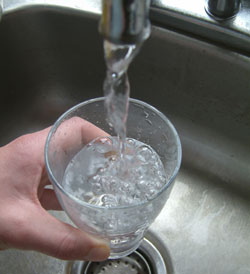 Current techniques use activated carbons - porous materials with exceptionally high surface areas - to remove the atrazine. However the success of this is directly related to the pore size, and pores can often be blocked by other organic material.
Professor Economy's team have developed a new fibrous form of active carbon by coating glass fibres with polymer resin, along with a catalyst to activate the fibres.
This 'fibrous filter' is then assembled into a cartridge, which reduces the levels of atrazine in water down to the three parts per billion required.
Professor Economy said: "The next challenge is to design scaled up systems - which can be used to clean up the atrazine from the water processing facilities from which drinking water is derived."
with thanks to Caroline Moore for the original article

References
Z Yue, J Economy, K Rajagopalan, G Bordson, M Piwoni, L Ding, V L Snoeyink and B J Mariņas, J. Mater. Chem., 2006, 16, 3375
DOI: 10.1039/b606679h
Removing herbicides from water

A potentially harmful herbicide can be removed from water with improved efficiency using a method developed by US scientists.
Contact and Further Information
Jon Edwards
Media Executive
Royal Society of Chemistry, Burlington House, Piccadilly, London, W1J 0BA
Tel: +44 (0) 20 7440 3322 or +44 (0) 7770 431013

---