Bulges can be the key to anti-HIV drugs
07 November 2006
A new wave of anti-HIV drugs could be a step closer thanks to work by US scientists.
The research is reported in the latest edition of the Royal Society of Chemistry journal Chemical Communications.
All living cells and viruses contain messenger molecules called RNA (structurally similar to DNA) - which play a vital role in the genetics of the cell.
DNA (deoxyribonucleic acid) and RNA (ribonucleic acid) normally exist in a paired structure, where two strands are joined together by matching parts called "base pairs".
However, in some parts the bases do not pair up, leaving bulges in the molecules - and these bulges often have biological functions.
In HIV, the bulges in the RNA are known to be involved in controlling the replication of the virus.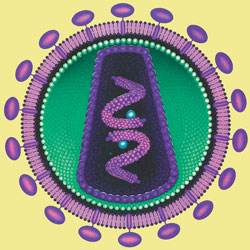 Professor Irving Goldberg and a team from Harvard Medical School and Northeastern University, Boston, have designed a molecule that can specifically bind to these bulges in the HIV RNA.
The team made their compound by removing some parts of the naturally occurring antibiotic neocarzinostatin.
Although in its unaltered form, neocarzinostatin does not fit into RNA bulges, removal of these parts allows it to make a snug fit.
Prof Goldberg said: "This is the first report of a designed molecule binding specifically with bulged RNA."
Using this approach Prof Goldberg's team aim to develop even more specific molecules which completely inactivate the HIV RNA.
with thanks to Katherine Vickers for the original article

References
Z Xiao, N Zhang, Y Lin, GB Jones and IH Goldberg, Chem Commun, 2006, 4431-4433,
DOI: 10.1039/B610007d
Helical molecules that bind to bulges in RNA could lead to anti-HIV drugs.
Contact and Further Information
Jon Edwards
Media Executive
Royal Society of Chemistry, Burlington House, Piccadilly, London, W1J 0BA
Tel: +44 (0) 20 7440 3322 or +44 (0) 7770 431013

---