New President for Royal Society of Chemistry
25 July 2006
An academic who has practised chemistry in three major UK cities is the new president of the Royal Society of Chemistry.
Professor Jim Feast FRS- an organic materials chemist who has spent much of his career at Durham University - took over the presidency following the RSC's Annual General Meeting today.
He takes over from Dr Simon Campbell CBE FRS - who steps down after a two year tenure in which he has overseen many changes and exciting developments.
Professor Feast said: "When Simon Campbell phoned and asked if I was prepared to stand for election I was honoured and somewhat gob-smacked!"
Describing himself as an accidental chemist, he adds: "When deciding my A-level course, I was meandering toward the humanities group when the headmaster shouted 'Feast, this way!' and directed me into the science stream.
"Since I had no idea what to do in life, I followed instructions, hence my feeling I am an accidental chemist!"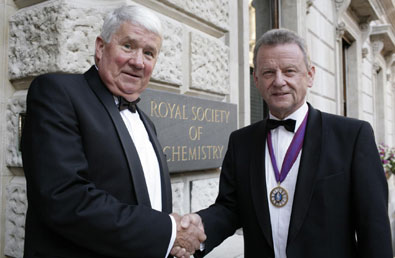 Jim Feast with Simon Campbell at RSC Summer Party
Married with two children and three grandchildren, Birmingham-born Professor Feast, 68, was raised and went to school in Lichfield, Staffordshire.
An expert in polymers, Professor Feast's contribution to the chemical industry has been vast and varied.
After graduating from Sheffield in 1960, he completed his PhD at the University of Birmingham in 1963, before spending over two decades as a lecturer at Durham University.
He then spent 14 years at the Leeds-Bradford-Durham Interdisciplinary Research Centre in Polymer Science and Technology (1989-2003) - with eight years as director.
He is presently an emeritus research professor at both Durham University (where he is part-time co-ordinator of the Nanomaterials Innovation Centre) and Eindhoven University of Technology, where he spends three months of each year.
Professor Feast aims to build on the progress the RSC achieved throughout Dr Campbell's presidency.
He said: "During my tenure I hope to maintain the impetus and help members, council, the chief executive and staff to work fruitfully and happily together towards fulfilling our defined strategic objectives."
Dr Campbell said "I am confident that exciting times lie ahead for the RSC, but it is now time to hand over to our new president, and so I wish Jim, Council, the CEO, members and staff every success in the future."
Contact and Further Information
Jon Edwards
Media Executive
Royal Society of Chemistry, Burlington House, Piccadilly, London, W1J 0BA
Tel: +44 (0) 20 7440 3322 or +44 (0) 7770 431013

---