Chemistry World: China launches a new era of international collaboration
11 September 2007
Over 200 senior industrialists and academics gathered in Beijing last week to mark the launch of Chemistry World: China magazine, and to hear leading chemists and policymakers stress the importance of developing science links between China and the UK.
The magazine is being sent to 20,000 key members of the Chinese Chemical Society (CCS) and the Chemical Industry & Engineering Society of China (CIESC), the two principal membership organisations promoting the interests of the chemical sciences in China. Dr David Concar, Science & Innovation Counsellor at the British Embassy in Beijing, welcomed the launch as a key example of strengthening scientific ties and improving communication between the two countries.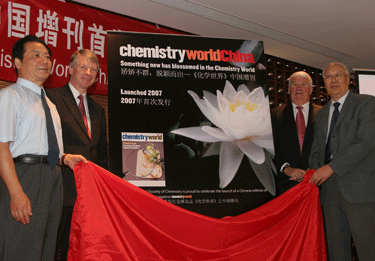 Richard Pike and Jim Feast of the RSC with Professor Gong from the CIESC and Professor Xi of the CCS
Professor Jim Feast, RSC President, led the event and introduced the accompanying inaugural Chemistry World: China lectures, during which the audience heard how the Chinese government has promised some 2 billion Yuan (£130 million) for chemistry research from 2006-2010. It was anticipated that over 150 key and a further 5000 general projects would emerge as a consequence, beside 15 new innovation research centres.
Richard Pike, RSC's Chief Executive, acknowledged the significance of such incisive strategic thinking and fiscal commitment in his presentation. "It's vitally important that China is establishing itself as a centre of excellence for the chemical sciences," he said. "We face the same global issues and opportunities and together we need our best minds working together across international boundaries to show leadership in matters such as improving health, materials, energy, the environment, and better use of global resources."
He noted that, with the launch of Chemistry World: China, the science community at large now had an authoritative and influential magazine that would report on significant Chinese research in the context of such global issues, which in turn would help to focus future strategic debate between the RSC, CIESC and CCS.

Chemistry World China delivered the most important news on chemical science, business and policy in China, along with the global perspective of Chemistry World. The final issue was...
Contact and Further Information
Press Office
Royal Society of Chemistry, Burlington House, Piccadilly, London W1J 0BA
Tel: +44 (0)1223 432294
Fax: +44 (0)1223 426594

---