World's first hydrogen powered racing car, sponsored by RSC
16 July 2007
Pictured making its debut at Silverstone: the world's first hydrogen-powered racing car, sponsored by the Royal Society of Chemistry.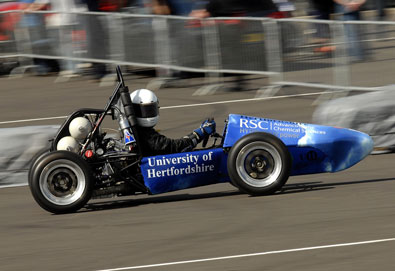 World's first hydrogen powered racing car, sponsored by RSC
© Picture courtesy of the Press Association
The car will be a major feature of this year's National RSC Chemistry Week Tour in November which will include a low-carbon road show taking in nine venues including the University of Hertfordshire, where a specialist unit has designed and built the vehicle. More details of Chemistry Week and the racing car sponsorship are available from Pauline Meakins at the RSC .
The new car, which can touch 130 mph and accelerate from 0-60 in 3.2 seconds, was demonstrated at the grand prix circuit as part of the Formula Student race weekend organised by the Institution of Mechanical Engineers.
The university reports that the car will produce zero carbon dioxide emissions, will be fuelled by hydrogen from farm waste and will be equally as fast as a petrol-fuelled vehicle.
It was made in the university's new Sustainable Energy Technologies Centre at Hatfield, a campus which has for decades produced talent entering the UK and international automotive industries. The university now has at least one graduate working on every Formula 1 racing team.
Team member John Goddard, working on his UH PhD said this week: "Usually if a car is run on hydrogen we would expect it to lose performance but in this case we have found a way to get optimum performance from the engine."
Contact and Further Information
Press Office
Royal Society of Chemistry, Burlington House, Piccadilly, London W1J 0BA
Tel: +44 (0)1223 432294
Fax: +44 (0)1223 426594

---