RSC and Syngenta launch African science initiative
21 November 2007
The Royal Society of Chemistry and Syngenta today launched the Pan Africa Chemistry Network to help promote the economic and social development of the continent.
The Network, which will eventually span the whole continent, is being established initially in Kenya. Its purpose is to connect African chemists more effectively and to enable them to achieve greater levels of innovation and scientific development.
Syngenta is supporting the launch with a £1 million grant. A prime focus of the Network will be agricultural development including food security and sustainability, clean water and disease prevention.
Academics will meet through a programme of seminars, conferences and workshops. Fellowships and grants will be awarded to enable active participation in these events and to further enhance networking, technology transfer and skills development by facilitating international mobility of key scientists.
An essential platform of the Network will be an educational outreach programme, encouraging children and their teachers to learn first hand about practical applications of chemistry through an annual schools science competition.
Professor Calestous Juma of Harvard University, a lead author on the United Nations Millennium Project, will launch the Network. Dr Temechegn Engida, President of the Federation of African Societies of Chemistry will also attend the launch.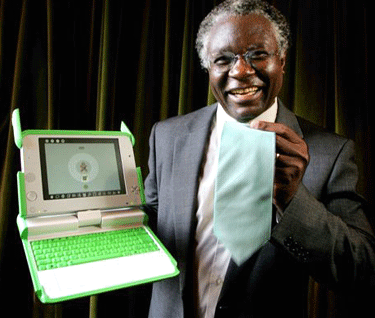 Professor Calestous Juma demonstrating $100 laptop and dirt-resistant tie. The laptop will enable all children in developing nations to have access to computers, and through them, knowledge vital to their education and futures
Dr Simon Campbell, Immediate Past-President of the Royal Society of Chemistry, said:
"The RSC is delighted that Syngenta has embraced so enthusiastically and generously our vision for the Pan Africa Chemistry Network that will help build the chemical science capacity that is vital for social and economic development across the Continent. We are looking forward to partnering with Syngenta and our African colleagues to build a network of local and national chemical science communities that will address such fundamental challenges as food security, disease control and biodiversity.
"With Syngenta's support, the Pan Africa Chemistry Network will bring African scientists together to address these key issues through new initiatives spanning education and research, workshops, exchange programmes and increased knowledge sharing. Syngenta's partnership will have a significant impact on chemical scientists in Africa as they strive to translate Millennium goals into reality across this vast Continent."
Syngenta Chief Executive Michael Pragnell said: "Agriculture is an essential stepping stone to economic development and improving livelihoods in rural African communities and the eradication of poverty, one of the millennium development goals. Building networks based upon science and innovation is essential to this process. We are delighted to be partnering the Royal Society of Chemistry in the creation of the first hub."
RSC chief executive Dr Richard Pike said: "Built upon the success of the RSC Archives for Africa which was launched in Ethiopia last year and thanks in large part to the grant from Syngenta, the Pan Africa Chemistry Network is an innovative approach to develop science education in Africa."
Syngenta is a world-leading agribusiness committed to sustainable agriculture through innovative research and technology. The company is a leader in crop protection, and ranks third in the high-value commercial seeds market. Sales in 2006 were approximately $8.1 billion. Syngenta employs around 21,000 people in over 90 countries. Syngenta is listed on the Swiss stock exchange (SYNN) and in New York (SYT).
An innovative approach to working with the science community in Africa.
African chemistry network launches

RSC and Syngenta partner to support African science
Related Links
Syngenta
A world-leading agribusiness committed to sustainable agriculture through innovative research and technology
External links will open in a new browser window
Contact and Further Information
Press Office
Royal Society of Chemistry, Burlington House, Piccadilly, London W1J 0BA
Tel: +44 (0)1223 432294
Fax: +44 (0)1223 426594

---