Mannequins give symbolic protest to funding cuts
15 March 2007
About 1,000 scientific research jobs will be lost this year in the UK because the government is snatching funding from science to compensate for loss-making projects in non-science enterprises such as Rover.
"This absurd decision, taken by the Treasury, comes within weeks of the Government declaring publicly that science is the answer to the challenge of global warming," said Richard Pike, chief executive of the Royal Society of Chemistry.
"We have written to Alistair Darling expressing our dismay at the news that science is being forced to pay the price of incompetence in other areas."
To drive home the point the Royal Society of Chemistry displayed a mass of unused laboratory coats and mannequins on College Green in London opposite the Houses of Parliament.
"Lab coats are still very symbolic of chemistry, although we tend not to employ the image frequently because not all chemists wear white coats," said Dr Pike. "However, we see this gesture as a way to demonstrate the harsh fact that the UK will be 1,000 scientists poorer as a result of the decision to axe part of science funding this year.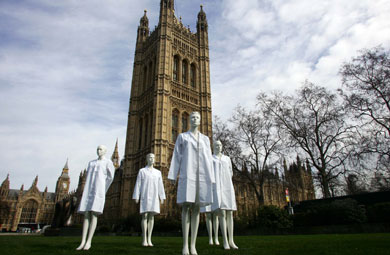 The mannequins represent the 1,000 research jobs that will not be filled due to the DTI's cuts to the science research budget
"There is a £68 million reduction in science research spending this year and the Engineering and Physical Sciences Research Council is the hardest hit with a withdrawal of £29 million."
The government has repeatedly stressed the importance of chemistry in Britain's fight for its share of the global economy, and in its efforts to address climate change and sustainable energy sources.
"By hacking science so thoughtlessly the government is also lopping off part of its own credibility," added Dr Pike. "And it is made worse because the cuts are to correct the effect of failure, like Rover, in other parts of the DTI remit."

Downloadable Files
Dr Richard Pike's letter to Alistair Darling MP

Word (133k)
PDF files require
Adobe Acrobat Reader
Contact and Further Information
Press Office
Royal Society of Chemistry, Burlington House, Piccadilly, London W1J 0BA
Tel: +44 (0)1223 432294
Fax: +44 (0)1223 426594

---
Press Office
Royal Society of Chemistry, Burlington House, Piccadilly, London, W1J 0BA

---