Motorbike fanatic is new MD of RSC Publishing Division
31 January 2007
A motorbike fanatic has burnt off the competition to become the new managing director of the Royal Society of Chemistry's world renowned Publishing Division.
Dr Robert Parker, 48, will take up the role, based at the RSC's offices on the Cambridge Science Park, on 1 March. He has been promoted from his existing role as editorial director at the RSC.
He said: "I am delighted and honoured to take on this role at such an interesting time for scientific publishing.
"My aim will be to build on the many successes of recent years, facing the challenges of new and developing business models and making the most of opportunities such as new ways of interacting with our users in an increasingly data-rich world."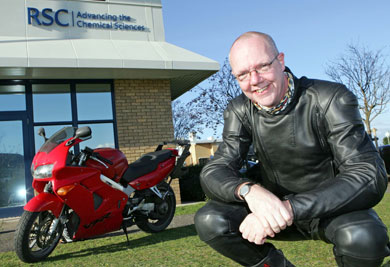 Dr Robert Parker takes up his new position as MD of the RSC Publishing Division on 1 March
The youngest of four children, Dr Parker was raised in both Palmers Green, North London, and Northaw, Hertfordshire, and attended St Ignatius College, Enfield.
He then graduated and obtained his PhD from Kings College, London, before joining the RSC in 1985 where he has worked in a number of roles for the organisation.
As well as wife Rosemary and children Holly (19) Alicia (17) and Max (14), Dr Parker's pride and joy is his red Honda VFR800, which he travels to and from work on each day.
Dr Parker said: "Bikes are a bit of a passion. It's my form of relaxation to go out for a blast on the bike, but I use it every day in all weathers -I'm not a fair-weather biker!

"I would dearly love to be able to look after the mechanics on my bike, but me and mechanical things have a difficult past and I'd need someone very patient to train me.
"This year I hope to indulge in some track days and an off-road course with my eldest brother. I have had a long-standing ambition to complete the 'camino' -the pilgrim route to Santiago de Compostela - on my bike when I am 50."
A chemistry set at the age of 10 first perked up Dr Parker's interest in the science, and from then he immensely enjoyed experimental chemistry through to degree level, although his PhD centred on computer modelling and spectroscopy.
From the start of that PhD, he always intended to pursue a career in scientific publishing - partly inspired by Dr John Emsley, a well known science writer and RSC Fellow.
Dr Parker said: "I believe the RSC is uniquely positioned to publish more of the best work from around the world and provide the best tools for our authors and readers.
"Ultimately, the aim is to serve the community by ensuring a lasting and valued role for the RSC in the dissemination of chemical science."
Dr Parker with some of the 23 journals published by the RSC
The RSC is a leading worldwide publisher of chemical information, producing journals, books and databases which are leaders in the world of chemical science.
The journals have high impact factors (a measure of the number of times they are cited by other journals) and have some of the quickest publication times of scientific manuscripts.
Chemical Communications, Journal of Materials Chemistry, The Analyst and Molecular BioSystems are among the 23 journals published by the RSC, as well as the monthly magazine Chemistry World.

Contact and Further Information
Press Office
Royal Society of Chemistry, Burlington House, Piccadilly, London, W1J 0BA

---