The lethal remains of the tin man...
16 March 2007
A method for monitoring highly poisonous tin compounds originating from landfill sites has been developed by French scientists.
The news is reported in the latest edition of the Royal Society of Chemistry's Journal of Analytical Atomic Spectrometry.
Organotin compounds are widely used as heat and light stabilisers in the production of plastics, and also as fungicides, pesticides, wood preservatives and antifouling paints.
But contamination of the environment by such compounds both in households and in waste sites presents a problem owing to their severe toxicity to humans.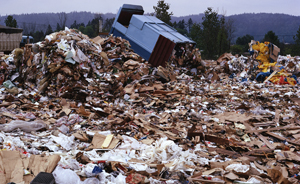 Organotins are extremely neurotoxic and can cause organ failure - their ability to interact with fatty surfaces in cells such as cell membranes (known as lipophilicity) is thought to be one of the reasons behind this.
The measurement of contamination has not been easy in the past, and previous methods only provided an estimate of some toxic forms of tin, chiefly tributyl tin.
But Dr David Amouroux and a team at the University of Pau in Southern France have devised a strategy to completely analyse and quantify all alkylated tin compounds arising from landfill sites.
The technique consists of three optimised steps: nitric acid extraction, derivatisation, and chromatographic separation.
After addition of isotopically enriched butyltin, single analysis is all that is required to give a reliable estimates of all the organotins in a given sample. The procedure was successfully tested on three French landfill sites.
Dr Amouroux said: "Such a methodology can be extremely useful to assess the fate of organotin compounds, providing a specific, reliable and complete understanding of the environmental impact of this kind of effluent."

with thanks to Alan Holder for the original article
References
Determination of alkylated tin compounds in landfill leachates using isotopically enriched tin species with GC-ICP-MS detection P Pinel-Raffaitin, P Rodríguez-González, M Ponthieu, D Amouroux, I Le Hecho, L Mazeas, O F X Donard and M Potin-Gautier, J. Anal. At. Spectrom., 2007 DOI: 10.1039/b614780a
Contact and Further Information
Press Office
Royal Society of Chemistry, Burlington House, Piccadilly, London, W1J 0BA

---