Murderer Crippen reunited with victim
30 July 2008
Dr Hawley Crippen and the wife he poisoned, dissected and buried under their cellar floor were reunited in the anatomy department of a leading London bookshop.
The notorious murderer and his music hall entertainer victim joined author John Emsley to launch a book in which the 1910 crime features conspicuously, alongside nine others cases of murder by poisoning.
The weedy, American-born, bespectacled homoeopathist appeared in and around Waterstone's book shop in Gower Street, a few minutes' cab ride from his Holloway home, where the singer's flesh was buried following filleting.
The Royal Society of Chemistry is publishing Molecules of Murder, the latest book by Emsley, a science writer and former University of Cambridge chemist.
At the launch of Molecules of Murder on 30 July Sandy Myles, who has portrayed the infamous Edwardian killer on television, stalked the floors of Waterstone's. Accompanying him was Samantha Parry portraying his wife Belle Elmore, a minor celebrity, noted for her flamboyant clothing, who had appeared at music halls around the country.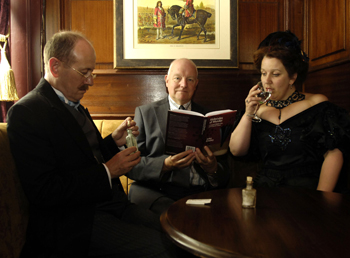 Author John Emsley with actors portraying Crippen and his wife Belle Elmore
Crippen, who was having an affair, used hyoscine* on his wife, disposing of her corpse by dissecting it and burying the remains under the cellar floor in Hilldrop Crescent. The bones were probably crushed and burnt and her head was never found.
Crippen fled by crossing the Atlantic by ship with his mistress Ethel le Neve who posed as his deaf-mute son but was doomed by the ship famously having a telegraph link to London. He was hanged in November 1910 but Ethel lived to the age of 86, dying in 1967.
Other cases examined in Molecules of Murder include the use of ricin in a rolled umbrella to assassinate Georgi Markov 30 years ago, atropine and Mrs Agutter's gin and tonic, diamorphine and Harold Shipman, adrenaline and Kristen Gilbert, chloroform and Mrs Bartlett, cyanide and Cheryl Lewis, paraquat in gravy, and most recently the murder of Alexander Litvinenko in London by polonium.
*Hyoscine is found in the human-shaped plant mandrake, much referred to in literature, and which features in Harry Potter and the Chamber of Secrets. The plant was supposed to give off a deadly shriek when pulled from the ground, the sound of which could kill or send a person mad.
Related Links
Waterstone's Gower Street - Map
Location of the book launch, with local tube stations
External links will open in a new browser window
Contact and Further Information
Press Office
Royal Society of Chemistry, Burlington House, Piccadilly, London W1J 0BA
Tel: +44 (0)1223 432294
Fax: +44 (0)1223 426594

---