Electric shock to subsidy for dream cars
20 May 2009
The myth of the electric car is exploded by the Royal Society of Chemistry in a hard-hitting piece featured in the influential journal Research Fortnight, published today.
In it, the RSC chief executive, Dr Richard Pike, says: "...in the UK right now there is a woolly thinking, a lack of scientific scrutiny and, from 2011, a potential waste of £250 million of public money, to subsidise the purchase of over 50,000 vehicles."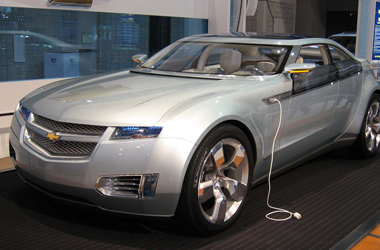 The article goes on to assert:
Carbon emissions advantage of the electric car in today's UK would be small.
50,000 electric cars would lower the total UK carbon footprint by less than 0.01%.
£250 million represents more than one-third of the annual budget of the science and engineering funding council at a time when research scientists involved in energy, climate change and sustainability are struggling for financial support.
The decision on the major step of providing the £250 million subsidy is based on limited practical information.
Reports on the performance of electric cars are confusing the public.
A sizable switch to electric cars might mean the end of tax-free electricity.
Downloadable Files
Research Fortnight Article


PDF (64k)
PDF files require
Adobe Acrobat Reader
Contact and Further Information
Press Office
Royal Society of Chemistry, Burlington House, Piccadilly, London W1J 0BA
Tel: +44 (0)1223 432294
Fax: +44 (0)1223 426594

---