British pupil claims his gold in Chemistry Olympiad
19 December 2011
Alcester teenager David Edey collected his larger-than-life gold medal from science minister David Willetts today after defeating hundreds of students from around the world in a global chemistry competition.
David, 18, became one of the world's top three chemistry students after winning gold at the International Chemistry Olympiad 2011.
He scored an almost perfect 94.8 per cent in the gruelling final exam of the 43rd International Chemistry Olympiad, held in Turkey earlier this year. David was competing against 272 students from 70 countries.
David collected his giant medal - produced by the Royal Society of Chemistry to mark the beginning of Olympic year in the UK - at the Department for Business, Innovation and Skills.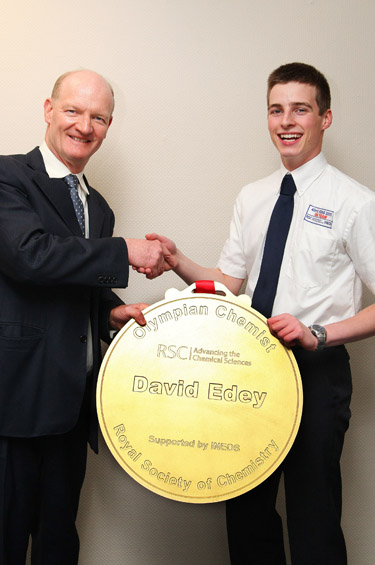 David said: "I had an amazing time taking part in the competition. Both in meeting chemists from across the world and experiencing all the food and culture that Turkey has to offer!
"I'd like to thank the mentors who put in a lot of time and work to get us ready for the competition, but also of course to the staff at the Royal Society of Chemistry for all the time and money they put in to organising everything; and also to INEOS for providing the funding for the UK team. It really is an amazing competition, and a brilliant showcase for chemistry."
Minister for Universities and Science David Willetts said: "This is a great achievement and yet more evidence that the UK is home to some of the best science talent in the world. I'm confident David has a bright future and hope his success inspires other young people to pursue science studies and careers."
David is now studying mathematics at St Catharine's College, Cambridge, but hoped to put his chemistry knowledge to good use in later years of his course. He said: "When applying to university, I spent a long time torn between maths and natural sciences or chemistry, especially after the experience of the International Chemistry Olympiad in Japan last year!"
After his win Dr Penny Robotham, Alcester Grammar School head of science, praised David for being an excellent student and a "dynamic and enthusiastic learner" who has already achieved 12 GCSEs at A* and five A's at AS level. David has since achieved 4 A*s at A level.
"In a year group of 240, David was without doubt one of the most able students this school has seen for many years," added Dr Robotham. "He is also without a doubt one of the brightest chemists we have had the pleasure to teach in many years. Beyond his academic studies (where he is yet to drop a mark after 5 modules), he helped run a science club in a local primary school which was extremely popular and successful.
"David's intellectual ability cannot be overstated. It has been many years since Alcester Grammar School has seen a pupil with this much talent."
It was the second time David has taken part in the competition after scoring 78 per cent at the 2010 International Chemistry Olympiad finals in Japan.
Notes for editors:
. Further pictures of David Willetts and RSC President Professor David Phillips awarding David Edey the medal are available on request.
. The Royal Society of Chemistry organises the selection and training of the UK team for the International Chemistry Olympiad competition. Registration for the 2012 competition opened in October and will close on 13 January. Next year's final held in Washington DC.
Related Link
More information about the competition and reports from previous events
Olympiad Registration for Students
Registration form for the UK Chemistry Olympiad
Olympiad Registration
Teachers can register their school for participation in the UK Chemistry Olympiad
Contact and Further Information