Ideal toast soldier should be margarine, not butter, experiment reveals
04 October 2011
Science has proved that the ideal toasted 'soldier' to be dunked in your breakfast boiled egg should have margarine on it and not butter.
The 12-girl chemistry experiment, conducted by the Royal Society of Chemistry, at a new £2.5m science facility at Sherborne Girls' School, Dorset, established some vital facts about boiled eggs and soldiers.
For a scientifically-exact boiled egg breakfast you will need:
A large egg (room temperature)
Boiling water in a pan
White bread
Margarine
Toaster
Knife
Kitchen timer
Method:
Set your kitchen timer for 3:30
Gently lower your room-temperature large egg into your pan of boiling water
Start the kitchen timer
Slice/prepare your bread for toasting
When the timer runs out, reset it for 2:30, restart the timer
Immediately start toasting your bread on a medium heat
When the timer runs out, remove the egg from the water and place it into an egg cup, and remove the toast from the toaster
Spread margarine on your toast and cut into 1.5cm strips
Serve and enjoy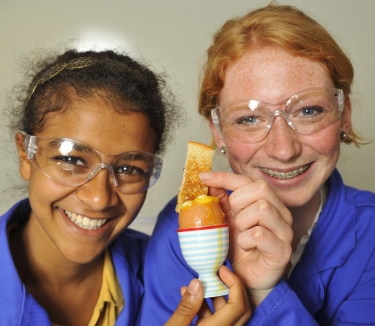 Sixth-form student (above right) Rosanna Younger, 17, whose hypothesis that "applying margarine to toast will produce stronger soldiers than applying butter" added: "It has been really interesting find a strong trend in such a short time. We kept the experiment simple, focusing on one aspect of boiled eggs and soldiers. I love butter on my toast but I might just have to swap over to margarine in future to ensure strong soldiers!"
By considering the individual variables under the supervision of Professor Hal Sosabowski, the girls established the following:
Margarine makes a stronger soldier than butter
White bread makes more effective dunking soldiers
Optimum toasting time is 2.5 minutes
The perfect soldier dimension is 1.5cm in width
The perfect boiled egg takes six minutes to cook from room temperature in boiling water
Links of Interest

Looking at chemistry that is used daily in kitchens both in homes and restaurants, and which makes the food we eat more pleasurable.
---

Chemistry in your Cupboard
The chemistry behind nine different household products from Nurofen to Dettol
Related Links
Secret of cooking the perfect boiled egg cracked
A group of schoolgirls claims to have discovered exactly what makes the perfect egg-and-soldiers breakfast, according to the Daily Telegraph
External links will open in a new browser window
Contact and Further Information
Press Office
Royal Society of Chemistry, Burlington House, Piccadilly, London W1J 0BA
Tel: +44 (0)1223 432294
Fax: +44 (0)1223 426594

---