The forgotten scientist who trained TE Lawrence behind enemy lines
05 December 2012
The Royal Society of Chemistry is using next week's 50th anniversary of the first screening of Lawrence of Arabia to spotlight the heroic, but forgotten, scientist whose real-life role in Lawrence's First World War desert exploits was ignored by the film's makers.
The RSC is inviting the public to write and submit scripts for a scene between the chemist and officer Herbert Garland and Lawrence, the legendary soldier-philosopher, to reflect a relationship that, by rights, should have been a feature of the 1962 movie which collected seven Oscars and which is today regarded as one of the most influential films ever made.
A £300 prize is offered by the RSC for the most inspiring dialogue portraying how Lawrence would have absorbed, in the desert setting, the skills of the adventurous scientist, whose dedication and daring have been since overlooked by historians.
After Lawrence's death, in a motorcycle accident in 1935, his funeral was attended by a host of eminent mourners, including Winston Churchill. Later he was honoured with a memorial service at St Paul's Cathedral. Today his Dorset grave is a place of pilgrimage.
Yet the name of Garland, without whom Lawrence could not have been successful, was lost in the sands of time, his contribution neglected, as was his grave in a cemetery near the River Thames estuary.
Working in enemy territory, Garland, who had gained membership of the RSC before the war, taught Lawrence, at great personal risk, how to employ explosives to derail troop trains and to break communications lines.
Using Garland's methods, Lawrence's attacks resulted in post-war world fame, celebrated in a stage play, the film and countless biographies - whereas Garland was forgotten, buried, aged just 42, three years after the war in a modest grave in north Kent, England.
Lawrence paid tribute to Garland, listing his name in the acknowledgements in Seven Pillars of Wisdom, his memoirs of the desert campaign, as well as detailing in the book the chemist's scientific skills, daring and energy, ranging across the sands by camel despite frequent sickness.
Lawrence wrote that Garland "had years of practical knowledge of explosives. He had his own devices for mining trains and felling telegraphs and cutting metals; and his knowledge of Arabic and freedom from the ordinary sapper-school enabled him to teach the art of demolition to unlettered Bedouin in a quick and ready way. His pupils admired a man who was never at a loss. Incidentally he taught me to be familiar with high explosives. Garland would shovel a handful of detonators into his pocket , with a string of primers, fuse, and fusees, and jump gaily on his camel for week's ride to the Hejaz Railway. His health was poor and the climate made him regularly ill. He treated these troubles as freely as he did detonators, and persisted till he had derailed the first train and broken the first culvert in Arabia. Shortly afterwards he died."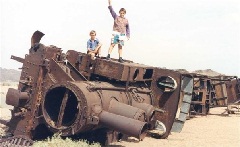 Train derailed by Garland method (picture courtesy of Roud family, Glasgow)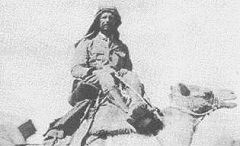 Garland of Arabia
Lawrence of Arabia, director David Lean's masterpiece, with its brilliant script by Robert Bolt, was first screened in London on 10 December 1962.
For all its scope the movie overlooks the way by which its hero masters methods of destroying the vital Turkish railway lines, helping to win the war in the Middle East. The former archaeologist and cartographer appears to have profound knowledge of explosives and their application without undergoing any learning process.
The record of Garland's contribution begins and ends with Lawrence's own account and it was only in 2004 that the scientist's grave was discovered and renovated by an American descendant.
Author of the RSC book The Chemistry of Explosives, Professor Jacqueline Akhavan, of Cranfield University, said today: "Although the majority of munitions were filled with TNT in the time of the First World War, Lawrence probably used dynamite to blow up the railways.
"Dynamite was discovered in 1875 by Alfred Nobel when he mixed nitrocellulose with nitroglycerine. The dynamite was most likely initiated by an electric detonator which contained mercury fulminate. On detonation the shock wave from the exploding mercury fulminate initiated the dynamite to detonation."
Scripts for the Lawrence of Arabia scene should be sent by email to Victoria Steven or to Forgotten Hero, Royal Society of Chemistry, Burlington House, Piccadilly, London W1J 0BA. Full contact details should be included. The decision of the judges will be final.
Deadline for scripts is 15 January 2013.

Copyright: 2011
Jacqueline Akhavan
A unique text which introduces difficult subjects in a readable manner, covering all aspects of explosive chemistry from history to manufacturing techniques and formulation.
Contact and Further Information
Press Office
Royal Society of Chemistry, Burlington House, Piccadilly, London W1J 0BA
Tel: +44 (0)1223 432294
Fax: +44 (0)1223 426594

---
Contact and Further Information