International Women's Day perfect time to celebrate women chemists, says RSC's first ever female President
07 March 2012
The role of women in chemistry finally parallels that of men, according to the Royal Society of Chemistry's first ever female President.
Professor Lesley Yellowlees, who becomes RSC President in July, said virtual parity had been reached this year with a near 50/50 male/female ratio in number of chemistry students at A-level and university - and more women than ever before had joined senior academic ranks.
But speaking on the eve of International Women's Day, Professor Yellowlees warned that there was no room for complacency.
"There is still some way to go in terms of academic positions," she said, "with most recent figures showing the number of women in senior positions in university chemistry departments remaining relatively low at only 6.0% at professor level and 13.6% at senior lecturer level in 2006-07. But it is worth noting that these figures had hugely increased from 0.8% and 4.9% respectively from 1997-98.
"Although 73% of female STEM grads are not in STEM employment, compared with 52% of men, this really reflects the range of careers that women enter. It's incredibly positive to move away from an obvious chemistry-related career into other areas and applying that scientific knowledge to other fields."
A striking gender divide persists in other STEM subjects. Despite total number increases in the number of both girls and boys sitting physics, the divide remains at approximately 1 girl for every 4 boys achieving A level physics. In Maths, 60 % of A-level candidates were male while more than 77% of males studied 'other sciences'.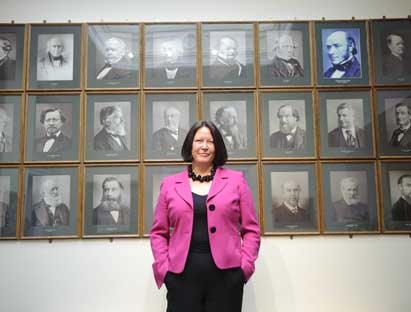 First lady: Professor Yellowlees standing in front of past portraits of RSC Presidents at Burlington House, Piccadilly
Professor Yellowlees, who is the first female RSC President in its 171-year history, said diversity in the 21st century is much more than about simple gender issues.
"Diversity these days also means taking into account what areas of chemistry women are representing and that has also changed significantly in recent years. We are seeing not just parity among the male/female A-level chemistry ratio and not just a significant rise in the number of women academics, but also the role of female chemists in all sorts of walks of life is becoming more influential all the time."
Notes for editors:
Professor Yellowlees is currently President-Elect of the RSC. The current President is Professor David Phillips, who steps down in July.
Professor Yellowlees, professor of inorganic electrochemistry, Vice Principal and Head of the College of Science and Engineering at the University of Edinburgh, is available for interview. Further pictures are available on request.
Related Links
International Women's Day
Find out more about IWD here
External links will open in a new browser window
Contact and Further Information