Sherlock Holmes and the Case of the Missing Visual Elements
26 March 2012
Sherlock Holmes's forensic detective skills were called into question today as it was revealed this modern sleuth is relying on ancient equipment to solve his latest cases.
A still from the recent season of the BBC's Sherlock showed the world's only "consulting detective" was relying on a 19th century version of the periodic table of the elements.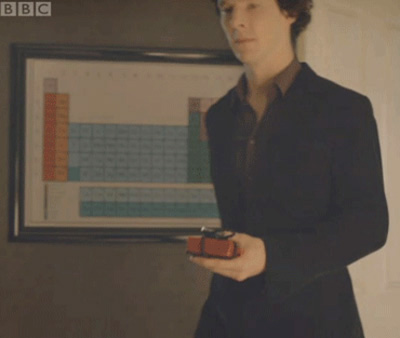 BBC Sherlock
The Royal Society of Chemistry announced it would be sending its brand new 21st century Periodic Table of the Visual Elements (as seen below) to Sherlock writers Steven Moffat and Mark Gatiss in a bid to complete the great fictional detective's modern makeover.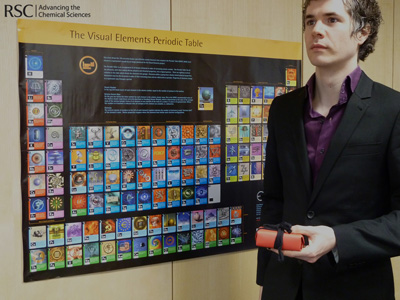 RSC Sherlock
An RSC spokesman said: "Sherlock is supposed to have been updated to become a 21st century detective, but he's only got what looks like a 19th century copy of the periodic table of the elements on his wall at 221b Baker Street.
"Mendeleev would be turning in his grave. If Sherlock wants to continue to be an inspiration for forensic scientists around the world, he needs to sort out his interiors. The RSC has the answer as you can see: our very own periodic table of the Visual Elements. This brand-spanking new periodic table will bring the super-sleuth slap bang into the 21st century.
"We will send one immediately to Steven Moffat in time for filming of the much anticipated season three of Sherlock."
Another helpful addition to Sherlock's crime-fighting capabilities is the RSC's interactive periodic table, which includes Murray Robertson's Visual Elements artwork that Sherlock could check out on his smartphone while out sleuthing. Hovering over the elements would allow Sherlock to see key facts, atomic data, isotopes and much more.
The RSC's forensic analysis of Sherlock's crime-fighting kit comes on the 10th anniversary of the great fictional detective receiving a posthumous Honorary Fellowship from the society.
Related Links

Discover a wealth of periodic table resources from the RSC, periodic table videos, news, games and podcasts
16 October 2002
The Royal Society of Chemistry is to bestow an Extraordinary Honorary Fellowship upon Sherlock Holmes, the first detective to exploit chemical science as a means of detection.
Contact and Further Information