Professor who cut through Scott myths lectures at the Chemistry Centre
30 March 2012
American atmospheric chemist Professor Susan Solomon lectured at the Chemistry Centre today on the doomed Scott expedition, the day after the centenary commemoration.
Professor Solomon wrote The Coldest March, which honoured Scott, whose reputation had been damaged by charges of bad leadership.
Her research into the weather in match 1912 proved that he and his team were overcome by freakishly cold weather that would have beaten any Polar team.
Professor Solomon, now of MIT, sits the advisory board of the Journal of Environmental Monitoring, published by the RSC.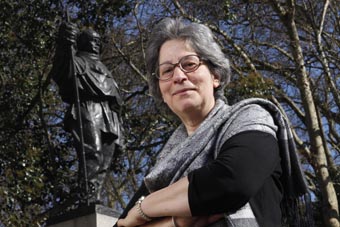 Susan Solomon pictured at the statue of Scott in Waterloo Place, London, before giving her Royal Society of Chemistry lecture.
Prof Solomon has worked at the South Pole, where her interest in Scott started.
Her Antarctic work explained the cause of the hole in the ozone layer and she later served as co-chair of the Intergovernmental panel on Climate Change.

Related Links
Professor Susan Solomon's testimony to US House of Representatives
Written testimony of Dr Susan Solomon, senior scientist, earth system research laboratory office of oceanic and atmospheric research national oceanic and atmospheric administration US department of commerce.
External links will open in a new browser window
Contact and Further Information
Press Office
Royal Society of Chemistry, Burlington House, Piccadilly, London W1J 0BA
Tel: +44 (0)1223 432294
Fax: +44 (0)1223 426594

---