RSC welcomes delivery of a new glass baby for former President
01 August 2013
The Royal Society of Chemistry's former President, Professor David Phillips, today received the gift of a new 'glass baby' to replace his famed experimental companion, Bobbitt, from glassblowers at the University Southampton.

Professor Phillips and his hollow glass baby are well-known on the science lecture scene. For many years Bobbitt helped the professor, a specialist in photodynamic therapy, to demonstrate the treatment of neo-natal jaundice with blue light to audiences across the world.

So it was with great sadness that the Royal Society of Chemistry announced in November last year that Bobbitt had met a very sorry end, on a trip with Professor Phillips to give a lecture in Berlin. Despite careful packing in a metal trunk lined with polyurethane foam and soft pillows to ensure his safe passage, Bobbitt arrived in the German capital shattered into dozens of pieces.

On hearing of his dismay at losing his trusty companion, Steve Ramsay, a glassblower at Professor Phillip's home institution Imperial College London, was keen to ease the professor's sadness by giving him a replacement baby. But, alas, he didn't have the facilities to tackle this unusual job himself, so he turned to the recently rebuilt glassblowing workshop at the University of Southampton for help. Southampton's scientific glassblower Lee Mulholland rose to the challenge and delivered a new glass baby to Professor Phillips today.
Lee said: "It's not every day that you are asked to make a 2ft glass baby, but me and my colleague Shamack certainly had fun making it. Anything that enables scientists to engage young people with science are always important and very worthwhile. Also, the opportunity to promote scientific glassblowing with the glass baby is very significant, as the skills base in this essential element of many areas of science is fast disappearing."
Professor Phillips said: "Bobbitt played a key role in my demonstration lectures over the years and delighted many thousands of people, all the while teaching them about the important role of chemistry in medicine.

"I called him Bobbitt after the unfortunate gentleman in the USA who had his appendage cut off by his wife when she discovered he had been unfaithful.

"Over the years, Bobbitt broke several times in that nether region because the stopcock snapped off, but sadly, in Berlin, he broke beyond repair. So I am delighted to be collecting a new glass baby from the University of Southampton today."

Professor Phillips plans to name the new baby Mike, after Mike Caplin, the Southampton glassblower who made his original glass baby. Mike passed away from cancer a few years ago.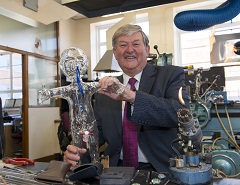 Professor Phillips with Mike in Southampton University's glassblowing workshop
Photo by Jon Banfield Photography

Professor Phillips continued: "I was very sad to hear of Mike Caplin's death. He did an excellent job in making Bobbitt, who was 30 years old when he met his demise, so I thought that naming my new baby after him would be a fitting tribute.

"While Mike will never replace Bobbitt, I look forward to working with him to bring fun and delight to many chemistry demonstrations in the years ahead."

He added: "Many of us will have watched the Duke and Duchess of Cambridge take their precious new delivery home from St Mary's Hospital in London last week. My metal trunk may not be as technologically advanced as the royal baby car seat, but rest assured I will be driving Mike home to London very carefully tonight."
Contact and Further Information