Chemists take a look behind Dali paintings
12 September 2013
A collaboration of scientists, conservators and curators has developed a technique for assessing the condition of works of art without the need to remove samples from them, and used it to analyse a valuable collection of paintings by the enigmatic artist Salvador Dalí.
The research is published today in the Royal Society of Chemistry journal Analytical Methods.
Paintings undergo little mechanical stress when they are hanging in a gallery, but when it comes to transporting them between exhibitions it is difficult to assess by eye whether or not they will be strong enough to withstand the handling and travel involved - and taking samples from them to test this is not a desirable option.
The risk of paint degradation is increased if the canvas is in poor condition. Canvases were traditionally made from natural fibres, which vary in resistance to humidity, temperature and acidity. Acid is known to shorten and consequently weaken the polymer chains that constitute the fibres.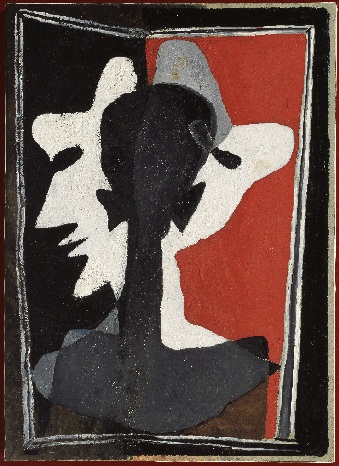 "I do not paint a portrait to look like the subject, rather does the person grow to look like his portrait," is one of Dalí's famous quotes particularly fitting to the featured Self-Portrait Splitting into Three, 1926. This is one of his early works on canvas made of cotton, prone to chemical splitting due to acidity and environmental influences. Researchers devised a technique to non-invasively diagnose the health of canvas to prevent tears and consequential image loss, thus helping to avoid unnecessary costly repair. © Salvador Dalí, Fundació Gala-Salvador Dalí, VEGAP, 2013.
An analytical technique called near infra red spectroscopy (NIR) can create a fingerprint of these fibres, without physically touching them. The multidisciplinary team, which includes researchers from University College London and the University of Barcelona, used NIR to analyse reference samples from 19th and 20th century canvases with similar provenance to Dalí's paintings and used the data together with microscopy data to determine the fibre types. They then used NIR alone to assess a collection of Dalí paintings from the Gala-Salvador Dalí Foundation in Spain, without taking any samples.
Using data analysis techniques, they were able to determine the acidity, fibre composition and fibre length of the Dalí canvases by correlating the NIR spectra with the results from their reference samples. Working with conservation experts, they used this quantitative chemical analysis data to qualitatively assess the condition of the canvases on a scale of one (fragile) to four (good).
Happily, the majority of the artist's paintings were shown to be in good condition.
References
Looking beneath Dalí's paint: non-destructive canvas analysis
M Oriola, A Mozir, P Garside, G Campo, A Nualart-Torroja, I Civil, M Odlyha, M Cassar anf M Strlic
Anal. Methods, 2013
DOI: 10.1039/C3AY41094c
Contact and Further Information