2018 Catalysis in Organic Chemistry Award Winner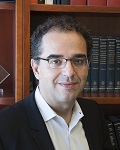 Professor F. Dean Toste
University of California, Berkeley
Awarded for the development and mechanistic understanding of novel catalytic concepts in organic chemistry.
About the Winner
F. Dean Toste was born in Terceira, Azores, Portugal, but soon moved to Toronto, Canada. While at the University of Toronto, he majored in Chemistry and Biochemistry and went on to obtain a M.Sc. in Organic Chemistry in 1995. He then moved to Stanford University where he completed his Ph.D. in 2000 under the guidance Professor Barry Trost. After a post-doctoral appointment with Professor Robert Grubbs at the California Institute of Technology, he took a position as an Assistant Professor of Chemistry at the University of California, Berkeley in 2002 where he is currently Gerald K. Branch Distinguished Professor of Chemistry.
In addition to the 2018 Catalysis in Organic Chemistry Award, Professor Toste's honors include the Nobel Laureate Signature Award (2002), Cope Scholar Award (2006), E.J. Corey Award (2008) and the Creativity in Organic Synthesis Award from the American Chemical Society, BASF (2007) and Mitsui (2014) Catalysis Awards, the Organometallic Chemistry Directed Towards Organic Synthesis (OMCOS) Award (2007) and Thieme-IUPAC Prize in Synthetic Organic Chemistry (2008) from IUPAC, the Merck Award (2010) from the Royal Society of Chemistry, the Mukaiyama Award (2011) from the Society of Synthetic Organic Chemistry Japan, the Horst-Parcejus Prize (2015) from the German Chemical Society (GDCH), and the Janssen Prize for Creativity in Organic Sythesis (2018). In 2015 he was elected fellow of the Royal Society of Canada - Academy of Science. Prof. Toste has served as associate editor of RSC journal Chemical Science since it inauguration in 2010.
Related Links

Professor Toste's Webpage
University of California, Berkeley
External links will open in a new browser window