2018 Joseph Chatt Award Winner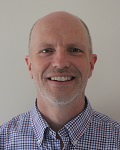 Professor Nick Le Brun
University of East Anglia
Awarded for contributions to the understanding of molecular mechanisms of bacterial gene regulation by environmental levels of oxygen, nitric oxide and iron employing iron-sulphur clusters.
About the Winner
Nick Le Brun graduated in 1990 with a first class degree in Chemistry from UEA. Supported through a Wellcome Trust Prize Studentship, he remained at UEA to begin his research career in the area of iron metabolism biochemistry under the guidance of Prof Andrew Thomson, FRS OBE and Prof Geoff Moore. He gained his PhD in 1993, and continued his research at UEA through a Wellcome Trust Prize Fellowship. In 1996, he moved to the Department of Microbiology, Lund University, Sweden to take up an EMBO Fellowship in the laboratory of Prof Lars Hederstedt where he studied bacterial cytochrome c biogenesis and, in doing so, was trained in molecular genetics. In 1999 Nick was appointed as Lecturer in biological chemistry at UEA, and was subsequently promoted to Senior Lecturer (2006-2009), Reader (2009-2011), and Professor (2011 - ).
Nick's research interests lie in understanding how bacterial cells handle essential metal ions, the pathways by which metal-containing proteins are assembled, and the reactivities associated with metalloproteins, and particularly proteins that contain iron-sulfur cluster cofactors. As well as using a wide range of spectroscopic and structural techniques, in the past few years his lab have explored the application of mass spectrometric approaches to study metalloproteins in their folded, cofactor bound states, which has afforded remarkable new insight into cofactor reactivity. Since 2010, Nick has been Director of the UEA Centre for Molecular and Structural Biochemistry (CMSB), and in 2014 he became Chair of the UK's Inorganic Biochemistry Discussion Group (IBDG), an Interest Group of the RSC.
Related Links

Professor Le Brun's Webpage
University of East Anglia
External links will open in a new browser window