Natural Product Award 2014 Winner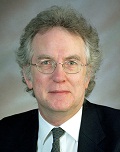 Professor Ian Paterson
University of Cambridge
For exceptional originality and creativity in natural
product synthesis.
About the Winner
Ian Paterson was born in 1954 in Dundee, Scotland. He obtained his BSc in chemistry from the University of St Andrews in 1976, after which he carried out his doctoral research with Ian Fleming at Cambridge. For part of this period, he held a college research fellowship at Christ's College. After receiving his PhD in 1979, he was a NATO postdoctoral fellow with Gilbert Stork at Columbia University, USA, before taking up a lectureship at University College London. In 1983, he returned to Cambridge University, where he is presently Professor of Organic Chemistry and a Fellow of Jesus College. He is a Fellow of both the Royal Society (2005) and the Royal Society of Edinburgh (2010).
Ian Paterson's principal research interests are the development of new synthetic methods and the synthesis and structure determination of biologically important natural products, and he is well known for his work on the chemical synthesis of complex polyketides that include anticancer agents and antibiotics. He has introduced general methods and strategies for control in organic synthesis, including Paterson aldol methodology based on the use of chiral boron enolates for the construction of diverse polyol sequences with multiple stereocentres.
These versatile and practical methods have enabled the total synthesis of a large number of challenging polyoxygenated natural products and their structural analogues in his group. Many of these are promising anticancer agents that are in extremely scarce supply from their natural sources, particularly those of marine origin. Recent examples include leiodermatolide, rhizopodin, aplyronine, spirastrellolide, spirangien, spongistatin, discodermolide, laulimalide, dictyostatin and reidispongiolide.
Related Links

Professor Paterson's Webpage
University of Cambridge
External links will open in a new browser window