Supramolecular Chemistry Award 2014 Winner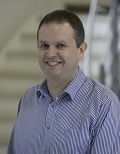 Professor Philip Gale
University of Southampton
For his outstanding body of work on small organic molecules containing hydrogen bond donor arrays for selective guest complexation, and the design and study of minimalist anion transporters.
About the Winner
Philip A. Gale received his BA (Hons) in 1992 and DPhil in 1995 from the University of Oxford. In 1995, he moved to the University of Texas at Austin where he spent two years as a Fulbright Scholar. In 1997 he was awarded a Royal Society University Research Fellowship and returned to the Department of Chemistry at Oxford.
In 1999 he moved as a Lecturer to the University of Southampton and was promoted to Senior Lecturer in 2002, Reader in 2005 and to a Personal Chair in Supramolecular Chemistry in 2007. Phil is currently the Head of Chemistry at the University.
Phil's research interests focus on the supramolecular chemistry of anionic species and in particular the molecular recognition, sensing and lipid bilayer transport of anions.
Phil has won a number of research prizes including a Royal Society Wolfson Research Merit Award (2013-2018), the RSC Corday Morgan medal and prize (2005), the Society/Journal of Porphyrins and Phthalocyanines Young Investigator Award (2004) and the Bob Hay Lectureship (2004). He is a Guest Professor at Xiamen University and was recently awarded a University of Canterbury Erskine Visiting Fellowship. In 2014 he became a Distinguished Adjunct Professor at King Abdulaziz University, Jeddah, Saudi Arabia. He was awarded a DSc degree by the University of Oxford in the same year.
Phil is currently the Chair of the Editorial Board of Chemical Society Reviews, a member of the Advisory Board of Chemical Science and the co-editor of Supramolecular Chemistry.
Related Links

Professor Gale's webpage
University of Southampton
External links will open in a new browser window